Here's today's dispatch from the crossroads of faith, media and culture.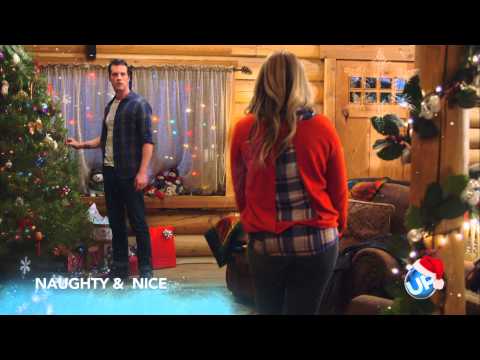 Naughty and Nice airs tomorrow night (Sunday, 11/9) @ 7:00 PM (ET) on UP TV.
Synopsis (from the UP press release): It's beginning to look a lot like Christmas in Los Angeles and commuters have Pepper Sterling (Tilky Jones), a cynical and funny radio comic, to keep them entertained. When Pepper's latest radio antics anger an important advertising executive, he gets shipped over to a sister station, KBRG in Idyllwild, Colorado, to serve out his suspension until the dust blows over.  Sandy Love (Haylie Duff), following in her father's footsteps, loves radio and came home to Idyllwild to host her own talk show.  She is unapologetically romantic and nostalgic, especially at Christmas.  Thrown together as co-hosts on her show "Dr. Love in the Morning," she is immediately at odds with Pepper, who never met a sentiment he couldn't twist into a punchline and has no use for Christmas.  When Samantha and Pepper's "war of words" catches the attention of the small town, their joint show becomes a hit and they start to see something in each other.  Stars: Haylie Duff (Napoleon Dynamite), Tilky Jones (Nashville), Maureen McCormick (The Brady Bunch) and Terrence "T.C." Carson (Living Single).
Mini-Review: Like it's title, Naughty and Nice is is pretty much evenly divided between things that work and things that don't, making this the quintessential mixed review.
What works: First, there's Haylie Duff who is really attractive and likable as Sandy (aka the "Nice" part of the title).  Then there's the basic premise (as stated above) which is actually quite good. The fact that it's peppered with genuinely funny lines, often from the character Pepper (Tilky Jones), is another plus. There's also a sort of gentle comedic irreverence that, for the most part, works in keeping the film out of the treacly category.
What doesn't quite work: While a certain suspension of disbelief is usually necessary in a light Christmas-themed romantic comedy,  a lot of the scenes at the small town radio station just don't ring true at all. I don't know if it was budget considerations for what but, it seems to me, that even a relatively small radio station (that nonetheless is part of a big broadcast company) would have more people on staff. Other than Duff's character, the only other staffers on view are Cole  (Tyler Jacob Moore), the likable-but-bland radio manager/romantic rival for Pepper, and Jonah (Eric Petersen), the board operator who doesn't take life too seriously.  The whole scenario would have been better served by offering up at least a couple of additional characters to flesh out the ambiance of the station (i.e. a receptionist and another program host or two).
Also, Sandy is depicted as getting quite involved in the problems of her callers — even to the point of meeting up with them outside the show to help them out with their problems. How she would even locate them is a question left unanswered and seems a bit of a stretch too far. The part that bothered me most, however, was when a bit of on-air advice from Pepper led to a serious consequence that, IMHO, was handled a bit too lightly. I won't get into the details on that since I don't to give away too much but, suffice it to say, the movie could have done without it.
Also, while it's always nice to see Maureen McCormick, seeing Marcia Brady cast as the mother of a thirtyish protagonist makes me feel a bit old. But that's my problem. I just wish they made her widow character a bit less weepy.  The film has a bit of a problem calibrating its shifts from comedy to sensitivity.
So, overall, Naughty and Nice isn't exactly akin to a chunk coal in your Christmas stocking. But it doesn't exactly hit the sweet spot either.
Encourage one another and build each other up – 1 Thessalonians 5:11