Here's today's dispatch from the crossroads of faith, media and culture.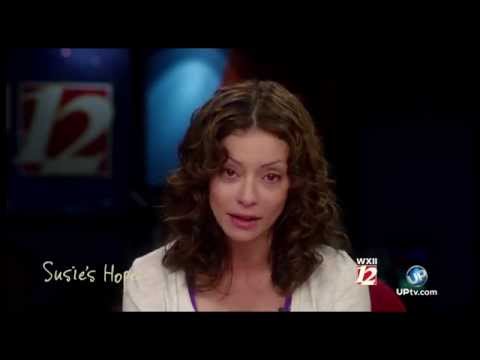 UP TV airs true story Susie's Hope tomorrow (8/3) at 8:00 PM (ET). Emmanuelle Vaugier (Two and A Half Men, CSY: NY) stars as Donna Lawrence, a  Greensboro, NC woman and animal lover left with a fear of dogs after barely surviving a ferocious, life-threatening attack by an abused pit bull. But she learns to overcome acquired fear in a most unexpected way – by adopting and caring for a brutally abused, abandoned pit bull-mix puppy named Susie.  Come on, you're crying already, aren't you? AREN'T YOU?!! I'm crying just typing it.
Review: In all seriousness, if you're a dog lover (like me) this one's sure to touch your heart — particularly the scene when Donna and her close friend Ramona (Andrea Powell) find Susie shaking and alone in a park after someone had beaten the poor puppy (breaking her jaw), set her on fire and left her to die. Even more heartbreaking is the scene where Donna, after learning that it would cost upwards of $17,000 to successfully treat Susie, says goodbye to the frightened animal as the compassionate vet (Willette Thompson of HBO's The Corner) prepares to put her down.  Since this scene occurs fairly early on in the film so I don't think it's much of a spoiler to reveal that Donna finds a way to pay for the procedures necessary to save Susie's life.  What follows is the story of how Donna and Susie help each other heal from their physical and emotional wounds.
They say no actor likes to costar with a dog because they are apt to, you know, chew the scenery. But the human cast holds its own even opposite Susie (who really knows how to use those eyes to garner sympathy). BTW, someone here should win an award for animal makeup.  Anyway, the friendship between Donna and Romona is well played and you can't help but like Willette Thompson as the kindly vet. Burgess Jenkins (The Shunning, The Heart of Christmas) is also very good as Donna's concerned husband — who understandably, resists the idea of bringing Susie into the house.

The dialogue in the script is extremely natural and believable and, at times, even surprisingly witty. Things becomes especially engrossing when the guy who viciously abused Susie is found and put on trial. In a nice bit of casting, the prosecutor is played by Jon Provost who fans of vintage television will recognize as Timmy from the original Lassie series. The case led to the passage of "Susie's Law," which strengthened North Carolina's penalties for animal abuse into a Class H felony.

Special kudos to Jerry Rees who both co-wrote the effective screenplay (with Dan A.R. Kelly) and directed. As a director, he knows how to take an already heart-tugging scene and give it that extra yank that will have you wondering where you last placed that box of Kleenex. Also, those Susie POV shots were a really nice touch.
I hope you watch Susie's Hope. Highly recommended.
P.S. The real Donna and Susie have worked to overcome their mutual traumatic experiences to inspire and minister to others (human and canine).  Donna and Susie visit schools, nursing homes, churches, burn centers and organizations, and attend pet adoption fairs and fundraisers to motivate and educate people surrounding animal cruelty.  Captivating the hearts of those that learn of Susie's story, Susie was recently recognized as the 2014 Therapy Dog winner for The American Humane Association Hero Dog Awards. The commendable recognition has placed Susie in the national finals (as one of the eight finalist contenders) of the 2014 American Humane Association Hero Dog Awards.  To vote for Susie click here. Voting ends Monday, September 15, 2014 at 12 p.m. EST.
For more information about Susie's Hope, thenon-profit organization which promotes education and awareness of the care and responsibility required in owning pets as well as animal safety around unfamiliar animals click here.
____
Jeff Bridges honored.  At a Spago luncheon on Friday, the conversation touched upon moviegoing demographics, the new film "The Giver" and the importance of branding — but the key talking point was solutions to hunger.
AARP threw the event to honor Jeff Bridges, the cover subject of the org's August/September issue. The story is tied to the Weinstein Co.'s Aug. 15 release of "The Giver," which AARP Media SVP-editorial director Myrna Blyth described as being based on a YA novel but focused on "the wisdom of age." She also talked about the new alliance between AARP Foundation's end-hunger program and No Kid Hungry, which Bridges has been championing for 20 years. The former is focused on needy seniors, while the latter focuses on children; the two have come up with programs to help both…Jeff Bridges told Variety he's very proud of "Giver" — he has a producer credit on the film — and he was also eager to talk about the work of No Kid Hungry, including a summer-meals program (people can text Food to 877-877 to find the nearest site). (More at Variety)
It's always nice to see someone who is doing well also taking the time to do good.
BTW, I'm really looking forward to The Giver.
 Encourage one another and build each other up – 1 Thessalonians 5:11