Here's today's dispatch from the crossroads of faith, media and culture.
At the movies: Persecuted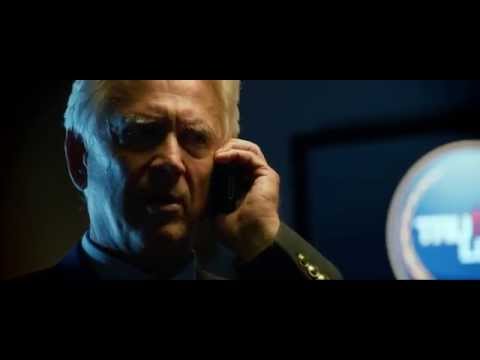 The faith-themed political thriller opens nationwide today (7/18).
Synopsis: Nationally acclaimed evangelist John Luther is the last obstacle in the way of sweeping religious reform in the States. When a U.S. Senator orders Luther abducted and framed for the murder of an innocent teenage girl, an unprecedented era of persecution is unleashed with Luther running for his life to uncover the deadly plot. As evangelist turned fugitive, Luther vows to expose anyone involved with or profiting from the girl's murder; a mission that brings him face-to-face with the coming storm of persecution that will threaten the entire Christian community in America.
Principal Cast: James Remar, Fred Dalton Thompson, Gretchen Carlson, Bruce Davison, Brad Stine, Natalie Grant
Producers: Daniel Lusko, Gray Frederickson, Brent Morris
Writer/Director: Daniel Lusko
Rating: PG-13
Film Studio: One Media, LLC
Synopsis: Nationally acclaimed evangelist John Luther (James Remar) is the last obstacle in the way of sweeping religious reform in the States. When a U.S. Senator orders Luther abducted and framed for the murder of an innocent teenage girl, an unprecedented era of persecution is unleashed with Luther running for his life to uncover the deadly plot. As evangelist turned fugitive, Luther vows to expose anyone involved with or profiting from the girl's murder; a mission that brings him face-to-face with the coming storm of persecution that will threaten the entire Christian community in America.
Review:
There was a time when the basic premise of
Persecuted
, that the United States government would actually move to control the free expression of religion, would have seemed far more far-fetched than it, unfortunately, does today. While the Supreme Court wisely rejected the Obama Administration's recent effort to coerce privately-held, family-operated businesses like Hobby Lobby to violate their beliefs and consciences by offering certain birth control options (specifically, four types which they equate with abortion), the fact that the government was overreaching to such an extent is cause for concern. (Senate Republicans, BTW, just blocked
an attempt by Senate Leader Harry Reid to legislatively nullify the Court's ruling
.)
True, despite recent government actions and (the faith-based films notwithstanding) and
often overt hostility to faith (particularly Christianity) in the media
, no one can really say Christians are persecuted in America. Certainly, not when you compare our country to places like
Egypt
and
Sudan
. Open hostility and resentment may not be nice or tolerant but it is, after all, free speech and not the same as persecution.
But you could say the same situation exists with women and gays. They have to deal with injustices like glass ceilings and
hostility by some
in the United States. But, like Christians and other believers, what they must put up with hear is a far cry from the persecution that they could face in a place like
Iran
(
where, we've been, told gay people don't even exist
). Likewise, the fact that anti-Jewish bigotry is reaching epidemic proportions in
some European countries
(never mind the Mideast) doesn't make the fact that it's less frequent and, generally, less severe in America less of a concern.
The point is there is that there is actual virtually unrestrained hatred and suppression of various people all over the world. As Americans, we don't any of that — against anyone — taking place in the United States, period. So, we call attention to homegrown instances of bigotry and religious suppression not because things are as bad here as elsewhere but because we don't want them to become that way. We're not immune. And, certainly, when you have both the government and the media in seeming alignment against any group's rights, that is a potential bad omen for the future.
That's why a movie like Persecuted is important — to call attention to an issue most of the media would very much like to ignore and/or pretend doesn't exist.
Now, to the film itself. It's not a bad film. I just wish I liked it more.
While I applaud Daniel Lusko's overall message and the attention his film brings to the importance of preserving religious freedom, I didn't feel the movie's man-on-the-run plot was the best way to illuminate the issue at hand. This, despite the fact that I love the genre. In fact, The Fugitive is in a tie with NYPD Blue as my all-time favorite TV show.
Before I return to what's right about the movie, let me list my problems with the plot.
1. It's hard to imagine that a conservative televangelist like John Luther would really hold the key to the passage of the so-called Faith and Fairness Act (which, apparently, would require houses of worship to provide "free speech" for those with opposing views). Would undermining him really be so important that it would cause powerful people in the government to frame him for murder? I would think a more likely (and believable) target of such an elaborate and risky scheme would be a popular Senate committee head who is successfully thwarting the bill.
2. If Luther really wanted the truth to come out, wouldn't the best approach be to surrender to authorities and let his legal battle play out the American public on cable news. At least then he'd have the support of some kind of legal team and not be left to just wander around hoping to stumble onto the truth. I actually think that a trial would have been more dramatic and would have provided a better theatrical forum for exploring the very issues the film raises.
3. If Lusko wanted to go
The Fugitive
route (presumably for more action), Luther's could have escaped after losing at his trial. And, if you're going for
Fugitive
-like action, that action needs to be genuinely thrilling (like when Harrison Ford jumped from that dam). Too much of Luther's ordeal is spent literally stumbling around in the dark and seems sort of aimless. He also comes and go from places where he should be recognized with way too much ease (as if sunglasses and a hoodie would be all it would take to go unnoticed). Finally on the point, the movie aches for a compelling Gerard-like character to be in hot pursuit. You know, someone who is formidable and relentless even as he begins to doubt his quarry's guilt.
4. In one scene, a Christian charity worker driving a "Helping Hands" van down a rural road, comes upon a meandering Luther. As blood streams down from his temple, she asks him if he's liked some donuts and/or water. But, unless I missed a line (and I don't think I did), she doesn't offer to take him to the hospital. Donuts are nice and all but, when a guy is bleeding from his temple, I personally think it's more important to get him to the ER. Of course, I'm not a doctor.
5. Fred Thomas of
Law & Order
and reverse-mortgage fame plays a priest who is also Luther's father. That bit of information (again, unless I missed something) is first casually dropped into the script at about the 40 minute point. Up until then, I thought his character (
identified on IMDB as Dr. Charles Luther
) was just a friend of the protagonist who happened to be a clergyman. As it is, I remain confused. Is Thomas' character a Catholic priest who, perhaps, was a widower and (biological) father before joining the priesthood? Or is he, perhaps, an Episcopal priest. In any event, his past could have been presented with more clarity.
But, despite all that, as a cautionary tale about where American politics may be heading, Persecuted is Recommended. At its core, it's a courageous film that succeeds in showing how the government and the media can combine to make repression sound like freedom and, in so doing, gain support even among those whose rights it would curtail. These days, not too many movie makers have the guts to go there. And, for that, Lusko deserves a lot of credit.
On TV: Rocky Road
The sweet family dramedy about a family ice cream business
premieres this Sunday night (7/20) @ 8:00 PM (ET) on UP TV.
Synopsis:
Harrison Burke (Mark Salling) has the executive apartment, expense account and big office at a prestigious Wall Street investment banker.   He is a handsome, 30-something player with crisp suits and caviar tastes, but it all melts down when a big company merger falls through.  As the firm downsizes, Harrison finds himself out of a job, a home and deeply in debt thanks to his high-flying lifestyle.  One bus ride later, he's on his parents' doorstep in a quaint New Hampshire town.  Harrison's parents Ben (Nicolas Campbell) and Marla (Deborah Tennant) are surprised and thrilled to see him, but suspicious.  So, Harrison pretends that he is taking a long overdue vacation, rather than suddenly stuck in his worst nightmare – living back home, working at his father's "Rocky Road" ice cream truck business, and competing for his old route with fellow driver, 16-year-old Razor (Jahmil French).  Plus, his local Reverend (Scott Thompson) and neighbor Fiona (Robin Duke) seem to have it out for him.  On the up side, Suzie Barnes (Rebecca Dalton), his old girlfriend, is still in town.  Suzie is now a local artist and dating Rick (Steve Byers), an old rival.  As Harrison settles in, he rediscovers the charm of home, learns how alike fathers and sons can be, and tries to get the girl back.
Principal Cast:
Mark Salling (Glee)
,
Scott Thompson (Hannibal, Kids in the Hall), Nicholas Campbell (Haven, A Heartland Christmas), Deborah Tennant (Haven, Copper), Steve Byers (Immortals, Alphas), Rebecca Dalton (Spun Out, The L.A. Complex), Jahmil French (Degrassi: The Next Generation), Kenny Robinson (Repo Men, Doc), Chris Gillett (Come Dance With Me, Warehouse 13), Robin Duke (Saturday Night Live, SCTV)
Director:
Brian K. Roberts (Spun Out, Everybody Loves Raymond)

Writers:
Tippi and Neal Dobrofsky (Window Wonderland, Goodnight for Justice)

Production Company:
E
ntertainment One (eOne)
Review: Presumably not-so-coincidentally, UP is debuting its newest original film July 20th which also happens to be National Ice Cream Day. So, score one for some brilliant marketing. But, score another one also for yet another highly-watchable film from the fast-growing young network that has become extreme consistent in delivering solid films to the small screen.
Unlike most of the dark and pretentious crap on television these days, Rocky Road doesn't arrive with any pretensions of being the most "amazing" or "awesome" program ever to come through your TV screen. You may not spend the next week twittering about its deep nuances — as if analyzing a TV show is supposed to dominate every waking moment of an ordinary person engaged in, you know, real life.
Instead, like good ice cream on a hot summer night, Rocky Road satisfies and is content with merely eliciting smiles from folks who just want to unwind and relax.
Mark Salling is extremely appealing as Harrison Burke, a young and high-living Wall Street hotshot who, finding himself booted from his job with no apartment and no savings, returns to the home of his parents (Nicolas Campbell and Deborah Tennant) in the small town he left behind. While there he, of course, also meets 
Suzie Barnes (Rebecca Dalton),
the high school sweetheart he left behind. She's now dating his old rival Rick who, stop me if you've heard this before, is…
Oh, you've heard this before. Well, you've probably also had chocolate ice cream before. And, if you're like me, you never really grow tired of that familiar concoction — at least not if it's produced with quality ingredients.
So, yes, Rocky Road follows a tried-and-true recipe — but it's one that, when done well, works every time. It's mix of likable (slightly nutty) characters and crisp dialogue, along with a sprinkling of plot twists poured creatively over a naturally sweet center doesn't disappoint. And, yes, this is UP and there is a town reverend (Scott Thompson).There's also a couple of faith messages — having to with letting go grudges and understanding what's really important in life. But they go down very smoothly and add a richness to the overall dish.
In other words, Rocky Road is a genuinely cool treat that I, for one, enjoyed. Recommended.
Encourage one another and build each other up – 1 Thessalonians 5:11