Here's today's dispatch from the crossroads of faith, media and culture.
Nice people are staging a comeback on TV. Tonight's first-run offerings on UP TV and Hallmark Channel proves that programming about nice, decent people can be both entertaining and intelligent. The broadcast networks should take note. These two up-and-coming cable outlets are tapping into the pent-up demand for quality television that is neither cynical nor dark.  Together they are putting into practice the ideal of lighting a rather than cursing the darkness.
The UP Original Movie Apple Mortgage Cake debuts @ 7:00 PM (ET) with an encore at 11:00 PM (ET).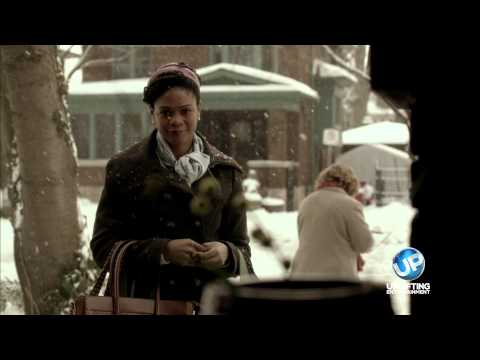 Synopsis (from the UP website): A five-year-old Angela Logan (Millie Davis) is in her grandmother Nellie's (Darlene Cooke) kitchen in Teaneck, New Jersey learning how to make apple cake and discovering the joys of baking. Nellie tells Angela: "Cake makes people happy. One bowl, one mixer, and the right company, and you're set for life."
Thirty-five years later, Angela (Kimberly Elise) is a single, working mom with three teenage boys, Marcus (A.J. Saudin), William, (Stephan James) and Nicolas (Lamar Johnson). She juggles various jobs and helps with employment counseling at the local Mission. While thrilled to be in the family home where she learned to bake, the house is falling apart, with sections deemed uninhabitable by inspectors after storm and flood damage. Plus, the car just decided not to start – and the boys all still need shoes, books and food.
She has always made due until now – when her lender calls in the mortgage loan and puts her into foreclosure. Angela has 10 days to come up with $4000 or she loses her home. This is the true story of a woman who decides to bake 100 apple cakes and sell them at $40 each in order to save her home – and how this idea completely changes her and her family.
As word of her "bake sale" ripples out through neighbors, friends, her church and even old flames, such as Melvin (Kevin Hanchard), the story soon spreads to the news, locally, nationally and internationally. Orders fly in from all over the world. Angela is taken off guard by the overwhelming support. But soon, this fiercely independent woman learns to depend on the kindness and love of others that comes her way, particularly when the community and local businesses rally around Angela to help her finish and ship the initial stack of orders.
The real-life inspiration for the film can be found at www.maccakes.com.
Mini-Review: Like all good desserts, Apple Mortgage Cake goes down easy. While doing so, it spins an inspirational (true!) story about overcoming life's obstacles. It's also a reminder that while pulling one's self by one's own bootstraps is a virtue, no one succeeds entirely on their own.  Some combination of friends, family and the kindness strangers is part the recipe for anyone's success. Mixed in with that nice life lesson is a touch of humor and a pinch of romance. In short, Apple Mortgage Cake has all the ingredients of fine UPlifting Entertainment. Recommended.
Signed, Sealed, Delivered arrive on Hallmark Channel at 8:00 PM (ET).
Series Synopsis (from The Hallmark Channel website): The new original series "Signed, Sealed, Delivered" is a wonderful combination of romance, comedy and drama that follows the lives of four postal detectives who transform themselves into a team of detectives to track down intended recipients of undeliverable mail. Their missions take them out of the office and into an unpredictable world where redirected letters and packages can save lives, solve crimes, reunite old loves and change futures by arriving late but somehow always on time. The team includes charming Oliver O'Toole (Eric Mabius), a genius postal detective and the group's leader; new team member, Shane McInerney (Kristin Booth), a technophile who brings 21st century sensibility to the group; free-spirited, "girl next door" Rita Haywith (Crystal Lowe) who has a photographic memory; and lovable Norman Dorman (Geoff Gustafson), a master in conventional research methods.
Mini-Review: Tonight's series opener features Valerie Harper as a legendary postal supervisor who is evaluating the team of postal detective as they unravel a dangerous mystery involving a letter from a young boy to his grandmother.
As I wrote when reviewing the series two-hour movie pilot last October, the show seems "ironically subversive in this era of dark and cynical television.  Oliver, the leader of the team, winningly played by Eric Mabius (Ugly Betty), belies the idea (too often taken as a truism in Hollywood) that only snarky, cynical heroes can be interesting. The dignified and quietly compassionate Oliver is the polar opposite of both adjectives yet he's as interesting as hell heaven.  Somehow simultaneously suave and what some would consider nerdy, he is a man of deep integrity who carries within himself a deep wound from his past. But where recent TV protagonists (i.e. House) have channeled their inner hurt through sharp-edged putdowns and general amoral unpleasantness, Oliver deals with his pain by throwing himself into his work and struggling to do the right thing. He's all about following rules — like never reading more of a letter than is absolutely necessary to ascertain its proper destination — but it's clear as an envelope window that he cares about the people involved.  The bottom line is you can't help but like the guy."
I'm happy to report that that all that still applies — though it does seem to me that that rule about not reading any more of a letter than is absolutely necessary has fallen by the wayside. That minor quibble aside, as a weekly series Signed, Sealed, Delivered delivers on the promise of its pilot with the regular cast gelling into a cohesive and appealing ensemble.
Next week's edition, which was also made available for preview, deals with the aftermath of a soldier's tour in Afghanistan — demonstrating that like Martha Williamson's CBS hit Touched by an Angel, this show has the ability to shift tones from week to week while also occasionally taking on some contemporary issues.
Valerie Harper, whose character's story arc continues into next week, follows Daphne Zuniga (from the pilot) in the role of a postal supervisor overseeing the team as they handle their cases of the week. The idea, as I understand it, is to feature various well-known TV stars in that position. Upcoming episodes will reportedly tap the talents of Della Reese, Valerie Bertinelli, Marilu Henner, Dick Van Dyke and Carol Burnett. That's certainly an impressive list and, no doubt, Martha Williamson has the clout to attract many other stars who are attracted to her brand of television.
While the idea has certainly worked so far, I can't help but wonder whether the show might, in the long run, be better served by utilizing its guest star power on the sending or receiving end of the letters at the center of the episodes. Conversely, my gut feeling is that having a regular supervisor would provide more consistency and ongoing tension (if the supervisor, say, wanted to see the Dead Letter office closed).
In any event, Signed, Sealed, Delivered is a sure-footed drama with a unique premise, great characters and fascinating story possibilities. Touched by an Angel ran for nine seasons on CBS. I think it's quite possible that this charming show can match or, perhaps even, exceed that. BTW, word is that CBS passed on this series. Their loss, IMHO, is Hallmark's gain. Highly Recommended.
Encourage one another and build each other up – 1 Thessalonians 5:11