Here's 2014's first dispatch from the crossroads of faith, media and culture.
What's new in the New Year? Here are five projects worth keeping an eye on.
1.) The Town That Came A-Courtin' (UPtv, January 19 @ 7 PM ET – with encores at 9 and 11 PM ET)

The
UP Original Movie
stars the
Valerie Harper
(
Rhoda, Dancing with the Stars
),
Lauren Holly
(
NCIS, Motive
),
Cameron Bancroft
(
24, Beverly Hills: 90210
) and
Lucie Guest
(
Heath Nutz, Blackstone
). The film is produced by
Odyssey Media
and directed by
David Winning
(
XIII: The Series, Andromeda
). 
The Town That Came A-Courtin'
is based on best-selling author and syndicated columnist
Ronda Rich
's
novel.
Sheryl J. Anderson
(
Charmed
) wrote the adapted script. 
Kirk Shaw, Stan Spry
,
Rich Middlemas
,
Mary Beth Sparrows
and
Eric Andrews
are executive producers.
About the notable cast, UP  Executive Vice President of Programming
Leslie Glenn Chesloff
  says "UP is thrilled to have the always inspirational Valerie Harper as part of our talented
The
Town That Came A-Courtin'
cast," said Leslie Glenn Chesloff, executive vice president of programming, UP.  "Joined by Lauren Holly, Cameron Bancroft, and Lucie Guest, this uplifting, sometimes bumpy romance showcases how a community's spirit and good will can help people connect and find each other."
Synopsis: Abby Houston (Lauren Holly) is a smart, beautiful, successful author and fiercely independent Southern woman.  When we meet her, she is curiously being kept captive in a remote cabin in the woods by an obsessed fan named Walter (Toby Hargrave).  Days earlier, Abby and her publicist Jamie (Lucie Guest) were visiting the lovely town of Bliss, Mississippi on her most recent book tour.  In Bliss, local Magnolia Blossom B&B owner Charlotte (Valerie Harper) and their well-meaning prayer chain have big plans for Abby – as the perfect match for their widowed Mayor Spencer Alexander (Cameron Bancroft), a single dad of two.  A series of collisions, several bouquets and numerous good words later, Abby relents to having dinner with Spencer and finds a handsome, earnest man.  Eagerly encouraged by the entire town, they embark on a whirlwind, public romance.  But just as they are about to share a first kiss, Spencer is reminded of his late wife and abruptly pulls back.  Hurt and sad, Abby is determined to leave Bliss behind, only to find her obsessed fan waiting.  With phones buzzing and the town mobilized, what happens next will determine her future.
 2.) Gimme Shelter (In Theaters on January 24)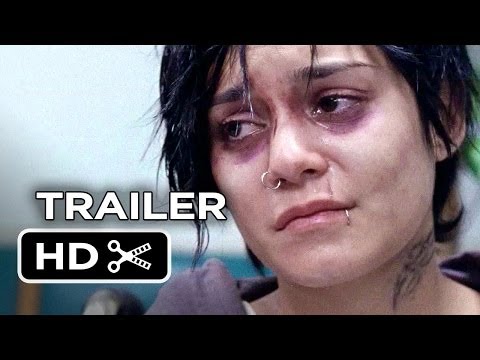 Synopsis: Based on the inspiring true events, the film centers on the courageous story of Agnes "Apple" Bailey (Vanessa Hudgens) and her incredible path to motherhood as a pregnant, homeless teenager.  Forced to flee her abusive mother (Rosario Dawson) and turned away by her Wall Street father (Brendan Fraser), Apple finds herself on a desperate and isolated journey of survival.  In the depths of despair, she meets a compassionate priest (James Earl Jones) who ultimately leads her to salvation and unprecedented support in a suburban shelter for homeless teenagers.   With gained confidence, and the warmth of her new home, Apple breaks from her inhibiting past, embracing the future with clarity and hope.
Hudgens, best known for her work in Disney's High School Musical franchise, immerses herself in the character and delivers a transformative and stunning performance.  To prepare, she lived for weeks in pregnancy shelters, interacting with the young, homeless mothers who also appear in the film, completely altering her appearance unrecognizable.
3.) God's Not Dead (In Theaters on March 31)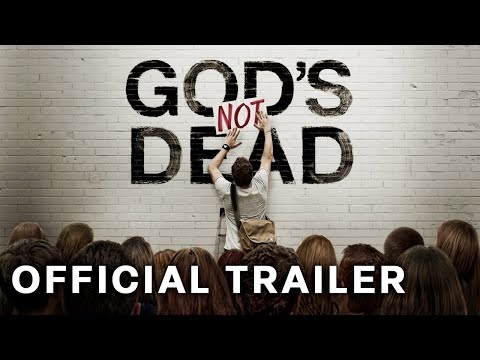 Pure Flix Entertainment has announced the release of the film on over 600 screens nationally March 21, 2014 through Freestyle Releasing.
"The trailer has been viewed by 4.8 million people and we've generated 230,000 fans on Facebook— about ten times the social media numbers for other films in this genre at this point before release," according Russell Wolfe, CEO of Pure Flix Entertainment. "With over 1,100 requests from churches for group tickets, we attribute this interest to the film's topic as well as our outstanding cast, which includes Willie and Korie Robertson of Duck Dynasty."
Beyond the film, there is renewed interest in the music and book properties associated with the movie. The film's title, God's Not Dead, was inspired by award-winning recording artists Newboys' track of the same name. Released almost two years ago it has surged once again and recently hit #3 on the iTunes Christian Music Chart and is featured prominently in the movie. The band also makes an appearance in the film.
Rice Broocks, pastor of Bethel World Outreach in Brentwood, Tennessee and co-founder of Every Nation, a world-wide association of churches, is the author of the book God's Not Dead which recently also enjoyed a resurgence of popularity on Amazon.com. Broocks believes the film may spark a movement. "God's Not Dead is a rallying cry for churches to equip and encourage believers to reach non-believers with the Gospel. It provides reasons to believe and confidence to take a stand for Christ in an increasingly secular society."
The film features a star-studded cast, reality stars and musicians including Kevin Sorbo (Soul Surfer, Hercules: The Legendary Journeys), Shane Harper (High School Musical 2, Flipped), David A.R. White (Six: The Mark Unleashed) and Dean Cain (Lois & Clark: The New Adventures of Superman), with special appearances by Newsboys, and the aforementioned Willie and Korie Robertson of A&E's smash-hit (and, recently, controversial) Duck Dynasty. The film is rated PG.
Synopsis: In God's Not Dead, college freshman and devout Christian Josh Wheaton (Shane Harper) finds his faith challenged by a dogmatic and argumentative philosophy professor (Kevin Sorbo) who requires his students to disavow the existence of God on the first day of class or face a failing grade. Josh finds himself having to choose between his faith and his future. Can he fight for what he believes? Can he prove the existence of God?
4.) Apple Mortgage Cake (UPtv, Premiere Date TBA)

Production has begun in Hamilton, outside of Toronto, Canada on the film which tells the inspiring true story of
Angela Logan
who when faced with foreclosure, set a goal to bake 100 cakes in 10 days to save her home.  Starring four-time
NAACP Image Award
winner
 Kimberly Elise
(
Diary of a Mad Black Woman, Grey's Anatomy
) and produced by
Entertainment One (eOne)
,
Apple Mortgage Cake
will make its world television premiere on UP sometime in 2014.  The film is directed by
Michael Scott
(
Mrs. Miracle
).
Jamie Pachino
(
Franklin & Bash
) wrote the script.
The ensemble cast also includes Kevin Hanchard (Orphan Black, Suits), Lamar Johnson (The Next Step, Home Again), Stephan James (Degrassi: The Next Generation, Home Again), A.J. Saudin (Degrassi: The Next Generation, Da Kink in My Hair), Gemini Award winner Gabrielle Miller (Corner Gas, Call Me Fitz), Joanne Boland (Copper, Lost Girl), Paul De La Rosa (The L.A. Complex, Covert Affairs), Gemini Award winner Catherine Disher (The Border, Flashpoint), Peter Williams (Stargate SG-1, Da Kink in My Hair), Siobhan Murphy (Rookie Blue, Men With Brooms), Barry Flatman (The Kennedys, Defiance), Darlene Cooke (Saving Hope, Da Kink in My Hair) and Millie Davis (The Best Man Holiday, Orphan Black).  The real-life Angela Logan makes a cameo appearance.
"Apple Mortgage Cake is the inspirational, real-life story about how one good idea — and a ton of apples, sugar, flour and butter — can change a family's future for the better," says UP SVP Barbara Fisher, adding "We are thrilled to introduce viewers to Angela Logan and her family, who went from foreclosure to "overnight" success and her own prosperous apple cake bakery in Teaneck, New Jersey."
Synopsis: A five-year-old Angela Logan (Millie Davis) is in her grandmother Nellie's (Darlene Cooke) kitchen in New Jersey learning how to make apple cake and discovering the joys of baking.  Nellie tells Angela: "Cake makes people happy.  One bowl, one mixer, and the right company, and you're set free for life."
Thirty-five years later, Angela (Kimberly Elise) is a single, working mom with three teenage boys, Marcus (A.J. Saudin), William, (Stephan James) and Nicolas (Lamar Johnson).  She juggles various jobs and helps with employment counseling at the local Mission.  While thrilled to be in the family home where she learned to bake, the house is falling apart, with sections deemed uninhabitable by inspectors after storm and flood damage.  Plus, the car just decided not to start – and the boys all still need shoes, books and food.  She has always made due until now – when her lender calls in the mortgage loan and puts her into foreclosure.  Angela has 10 days to come up with $4000 or she loses her home.
This is the true story of a woman who decides to bake 100 apple cakes and sell them at $40 each in order to save her home – and how this idea completely changes her and her family.  As word of her "bake sale" ripples out through neighbors, friends, her church and even old flames, such as Melvin (Kevin Hanchard), the story soon spreads to the news, locally, nationally and internationally.  Orders fly in from all over the world.  Angela is taken off guard by the overwhelming support.  But soon, this fiercely independent woman learns to depend on the kindness and love of others that comes her way, particularly when the community and local businesses rally around Angela to help her finish and ship the initial stacks of orders.
5.) Three Wise Animals (In Pre-production, from Andretta Productions)
This one (very appropriate, I think, for a Feast of the Epiphany posting) is from R.G. Seal, a talented up-and-coming filmmaker I met at the 2013 Variety Family Entertainment & Faith-based Summit. The project is still seeking completion financing and may well represent a major opportunity for someone looking to get in on the ground floor with a major young talent.  If you can help in that regard please email threewiseanimals@outlook.com.
BTW, the versatile Mr. Seal also co-hosts the weekly Houston Sports Talk podcast and pens a rather clever and amusing comic strip called Jimmy O'Hair.


I'll be following R.G.'s progress with Three Wise Animals.  I certainly wish him well and will keep you posted.
Encourage one another and build each other up – 1 Thessalonians 5:11