Here's today's dispatch from the crossroads of faith, media and culture.
Must-See TV returns to NBC. With Thursday night's live telecast of the faith/family-friendly The Sound of Music pulling in the sort of blockbuster ratings the network hasn't seen on the night since the glory days of ER and Frasier coming on the heels of the success History Channel's The Bible, let's hope broadcasters finally realize the mainstream demand for such fare even among the 18-49 demo. It certainly is a good time for a Walden Media, a supplier which knows the faith and family audience like the back of its hand, to be expanding its reach into TV development.  The tide is turning, folks. The pendulum is swinging back.
A Candle with legs? Meanwhile, on the film side, now in its third week of wide release, EchoLight Studios' The Christmas Candle is reportedly expanding into nearly 100 new markets this weekend as the holiday movie season kicks into high gear.
After previous conversations about the movie with EchoLight CEO Rick Santorum, Max Lucado (on whose book the film is based) and screenwriter Candace Lee, I recently spoke with Executive Producer Brian Lockhart about what his hopes that The Christmas Candle will become a family holiday tradition.
JWK: Despite some very strong audience feedback on sites like Fandango, it's probably fair to say that the The Christmas Candle is struggling a bit at the box office.
BRIAN LOCKHART: I think everyone associated with the film probably had hoped that the film would (so far) have been a little bit better attended through now but the flip side of it is we're just entering December and…I don't think it's uncommon for people to want to get past Thanksgiving before they really start thinking about Christmas. So, I would argue that we're kind of moving into the kind of sweet spot for a Christmas film right now.

JWK: You've had great success as the chief investment officer at Peak Capital Management but you're relatively new to the world of filmmaking. How did you become involved with The Christmas Candle? What attracted you to this particular project?

BL: Well, I loved the script. I think it's a great Christmas story. I think it's a story of encouragement. I think it's a story that brings hope to people. You know, it deals with real-life issues. Even though the scene is set in England in 1890, it deals with the issues loss, suffering and disappointment. I would suggest that those issues are as large in society today as they were in England in 1890. How do people that are in the faith community deal with those issues? How do people outside of the faith community deal with those issues? I think the story does a great job of portraying that. People love happy endings. People love good endings. I think the story does a good job of (showing) both people inside the faith community and people outside the faith community and how they deal with disappointment and loss and where is God in the midst of all of that? I think it's a movie that inspires hope and brings encouragement to those that watch it.

JWK: You also worked with Impact Productions (makers of The Christmas Candle) on a film called Home Run.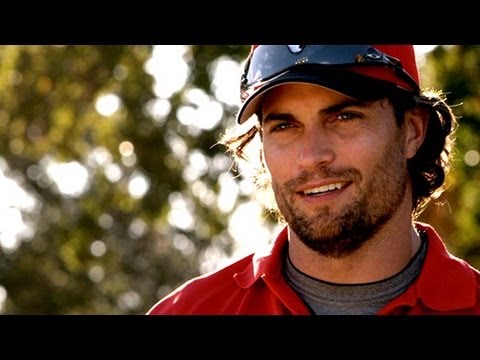 JWK: How did you become with that?
BL: I got involved with Home Run fairly late…Tom Newman is the owner of Impact Productions and co-producer on Home Run and The Christmas Candle. Tom has been a client of Peak Capital Management for a long time. So, Tom and I have had a longstanding relationship where I've worked with him professionally…He was telling me about the Home Run movie. I had recently been exposed to the group Celebrate Recovery and had seen the impact in other people's lives that Celebrate Recovery was having. So, I asked Tom what he needed to go into production on the film. There was a small amount of money that he still needed to raise and I told him that I would take care of that. So, as a producer's rep what I really did was try to help facilitate Tom's role as a producer on the film. So, I provided the last of the funding to go into production and then, also, represented the film at a couple of different film festivals and a couple of different media groups throughout the US.
JWK: So, you and Tom are obviously on the same page in terms of what projects attract you. You're both into projects that uplift people.
BL: Yeah, I would say that's definitely true. I share Tom's vision for impacting a sight-and-sound generation. I think that Tom's desire — which is consistent with where I would want to be in this space — is to do things with excellence, to try to make films that really do capture people's imaginations. What I've often said is that we shouldn't have to choose between good filmmaking and compelling faith-inspiring stories…I think too often movies that have had what I call a "faith element" within them have really focused so much on the message that they've neglected the art of storytelling and filmmaking. I think Tom and I both have a desire to combine those two things…
…Tom is great to work with. He's got a team of people around him that I think are terrific and do a great job. They're very, very professional and very, very good at what they do. It's been great working with Impact Productions.
JWK: Do you have the movie bug now? Are you looking to become involved in making other films?
BL: Yeah, definitely. I don't whether it would be as direct as the role that I'm playing as executive producer of The Christmas Candle but Tom and I have had long discussions (about) two other (potential) movies, in particular. One (is about) the Boy Scouts. I think the media has defined in many ways what the Boy Scouts are about and I don't think it's been an accurate portrayal. And so I'm very interested in doing a movie that portrays the Boy Scouts (in a way) that's true to their mission. And (we're also talking about) doing a story that would be sort of a sequel to Chariots of Fire, the Eric Liddell story.
JWK: Is there anything else you'd like to say about The Christmas Candle?
BL: I would simply say there's a lot of people that are wanting to make faith-inspiring movies and I think that's a good thing. Some of them I think probably deserve to be in theaters and to have national and international releases…I think it's exciting that there are so many people wanting to make films in this space but I do think that the people that want to make faith-inspiring films have a responsibility to try to (meet) a standard of filmmaking that the public is used to going to the theaters and seeing. We do a disservice when we think that it's enough to just have a faith-inspiring message without combining it good storytelling. Our hope is that as we get closer to Christmas, the public hears about The Christmas Candle and makes a decision to go see it at a theater near them — and that they would agree with us that we don't have to choose between great messages and great filmmaking. We think our film is entertaining. We think the characters are well-developed and the acting in it is terrific. We think it's really a film that people will enjoy…A good friend of mine went and saw it last week and he said (it's going to be) a holiday family tradition.
JWK: Who knows? Families may still be watching this film twenty or fifty years from now.
BL: That is our hope.
Encourage one another and build each other up – 1 Thessalonians 5:11