Here's today's dispatch from the crossroads of faith, media and culture.
Faith on DVD. One sure sign of audience demand for strong, faith-themed films is the success they've been having not only at the box office but on DVD. Here's a round-up of the latest assortment of films being made available to the home entertainment market
1.)  Ignatius Press will release Restless Heart: The Confessions of Augustine, the first full-length feature film about the life of St. Augustine as a two-disc collector's edition DVD this Friday (11/15). The highly-anticipated package features the 133-minute theatrical-length film and a 203-minute extended version of the film, and a 24-page illustrated companion booklet.
Filmed in Europe, Restless Heart uses a historic backdrop to tell the story of a gifted man who pursues fame and fortune without a moral compass — and the dramatic changes that occur in his soul when challenging events lead him to see the light of truth. It also chronicles the collapse of the Roman world and how Augustine laid the intellectual foundations of what became Europe. With Augustine, the stories of two other great saints, Monica and Ambrose, are also portrayed.
The film is directed by Christian Duguay (Joan of Arc, Pius XII). The cast includes Allesandro Presiosi, Monica Guerritore, Johannes Brandrup, Serena Rossi and Franco Nero.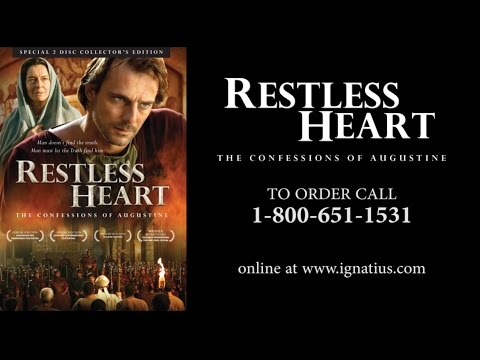 2.) Surrendered: The Story of Jay Harden is about a husband and father discover that in order to hold his family together, he must first surrender himself to God's plan in this heart-wrenching family drama.
Jay Harding may see himself as a loyal and generous man, but upon learning that everyone else views him as manipulative and selfish, he attempts to redeem himself by purchasing his family a dream home for Christmas.
His wife knows their marriage is down for the count; his children are mischievous and distant; and his friends are desperately trying to help him overcome his struggles.
Meanwhile, by focusing all of his energy and efforts on this one elusive goal, Jay begins to lose sight of the things that really matter in life.
With Christmas quickly approaching and in a sweeping attempt to redeem himself, Jay launches out on a quest to purchase a dream home as a present for his family. With this ultimate gift as his sole focus, he pushes himself to make it happen no matter the cost to himself and to those around him. But with the tragic loss of his daughter, the pain of a broken marriage and the devastation of financial ruin, Jay is forced to make the biggest decision of his life, the choice to surrender. He will need to trust that God will guide them through the darkness, and instill them with the strength to endure even when it seems as if all hope is lost. View the website here.
3.)
King's Faith
has a special message to young people who are challenged in today's culture with making the right choices and learning to break free from past mistakes. The film features the themes of courage, forgiveness and overcoming your past highlighted with the important message of youth in foster care.
King's Faith stars Emmy Award–winning actress Lynn Whitfield (The Women of Brewster Place, Madea's Family Reunion), Crawford Wilson (Judging Amy, Zoey 101), Kayla Compton (Entourage), and James McDaniel (Malcolm X, NYPD Blue).
Synopsis: Eighteen foster homes. Nine arrests. One life-changing moment. After Brendan King's life spiraled to rock bottom, the teen found hope in a new relationship with Christ while serving time in a juvenile penitentiary. Recently released from prison, Brendan finds solace in the foster home of a couple struggling with suppressed grief.
As the city-bred teen enrolls at a suburban high school, he finds support from a group of believers. Yet the bonds of his old way of life—and the gang that wants to know where he hid their stash on a long-ago night—are strong. In his darkest moment, Brendan found faith. Now he must decide if it's worth the price to hold on to it.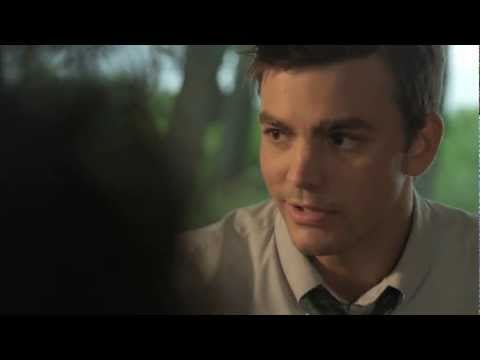 4.) Taken By Grace takes place on the night that Lucas Blackstone (Angus Macfadyen of Braveheart) is released from prison and sets out for the town of Trinity to find the man who murdered his son. He breaks into a rural home and steals a pistol and bottle of whiskey.
Later that evening, he sneaks around in the darkness near the campsite of Shawn Everett (Bradley Dorsey) and his wife, Carrie (Haylie Duff), a young couple coping with a strained marriage.
Lucas kidnaps Shawn and Carrie at gunpoint, forcing them to drive him to an address in town of Trinity. During their travel, Lucas learns of Shawn and Carrie's troubled marriage and questions their ability to reconcile their love through their faith in God.
Amused by the couple's seemingly vain attempt to reconcile their marriage, Lucas mocks Carrie's claim that she has forgiven Shawn, saying it is impossible to forgive something like that. Soon after, Shawn and Carrie learn that a man nicknamed Trig from Trinity murdered Lucas' 10-year-old son, Max. Also unable to forgive, Lucas is bent on seeking revenge on his son's killer.
5.) Beyond the Heavens
is writer/director/actor
Corbin Bernsen
's story of a boy whose search for answers leads him to faith.
Oliver is a bright 12-year-old who lives in the shadow of his parents' loss of their first son. His family appears fine on the outside, but is broken behind closed doors. As they work out their faith, Oliver is left to grapple with his own belief in God and the answers to life's biggest questions: Why am I here? What happens after death? Who made us? An angel disguised as a quirky traveler is sent to help him bring the pieces of the puzzle together. As Oliver's struggles cause him to mistakenly look to science for answers, he discovers God is found by faith not by sight. Beyond the usual sites for such things, the film is also available at Bernsen's own
Home Theater Films website
.
BTW, I recently spoke with Corbin Bernsen about the film. You can read our conversation here.
Encourage one another and build each other up – 1 Thessalonians 5:11