Here's today's dispatch from the crossroads of faith, media and culture.
What's ahead? The faith-and-values friendly entertainment sector continues to gain steam as we head into the 4th quarter of 2013. Here's some of the movie premieres to look out for.
September 6 – The Ultimate Life
In this prequel/sequel to 2007′s The Ultimate Gift, Peter Fonda (Ulee's Gold), Logan Bartholomew (Love's Enduring Promise) and David Mann (Meet the Browns) join original cast members Bill Cobbs, Lee Meriwether and Ali Hillis in the film based on the best-selling books by Jim Stovall. Building on the successful 2007 theatrical release of "The Ultimate Gift" in which Jason Stevens (Logan Bartholomew) inherits a two-billion dollar trust from his grandfather, Red (James Garner), The Ultimate Life begins three years after Jason receives the gift.  We discover the ensuing years have been challenging for Jason and his girlfriend Alexia.  When his extended family files suit against him, Jason is left reeling until his lawyer and confidant Hamilton, shares Red's journal with Jason. Reading the journal takes Jason (and moviegoers) back into Red's younger days where he meets lifelong friends and discovers the origins of the gifts that would mark Red's life.  Spanning across generations and time, the question now is:  Is it too late for those lessons to help Jason?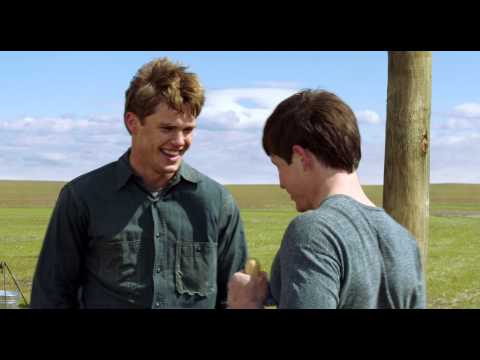 September 27 – Alone Yet Not Alone
The film is based on a true story taken from the novel of the same name written by Tracy Leininger Craven and depicts a family at a critical juncture in America's history. It tells the story of Barbara and Regina Leininger and their journey of faith and survival during the French & Indian war in 1755. Captured by the Delaware Indians in a raid on their home and transported over 300 miles of wilderness to Ohio, the sisters are sustained only by their abiding trust in God, and their hope of escape against all odds to be reunited with their family. The flagship production of Enthuse Entertainment stars Kelly Greyson (Return To The Hiding Place), Jenn Gotzon (God's Country, Frost/Nixon) and actor/musical artist Clay Walker (Clay Walker: Jesse James).
October 4 – Grace Unplugged
22-year-old former Disney star AJ Michalka stars as a 22-year-old Christian teenager who gets a big break which thrusts her into stardom while also testing her faith. James Denton (Desperate Housewives) co-stars as her minister dad.  Note: I just saw a preview of this one and it has all the earmarks of a mainstream winner.
October 11 – Unlimited
Starring Fred Thompson (Law & Order) as real-life entrepreneur, Christian motivational speaker and NASA spacecraft scientist Harold L. Finch, the fictional storyline tells the story of Simon Orwell (Daniel Ross Owens) whose life takes a series of unexpected turns after he helps an old professor build a device that creates unlimited energy. But, when the professor is murdered by a drug cartel, Orwell goes into hiding and takes refuge in a Mexican orphanage. There, he meets Finch, a former NASA scientist and his life begins to change. With Finch's help, Simon sets out on a journey to find out who killed the professor and the reason behind their motives. In the process, he discovers the truth about the world-changing device, along with uncovering the power that will allow him to reach his own unlimited potential. Robert Amaya  (Courageous and October Baby) also stars.  Unlimited will be released through a new movie ticket reservation platform and film distribution company called Seatzy (seatzy.com/unlimited).  Seatzy allows moviegoers to participate in the process of supporting the films they love by getting ticket reservations in early and assuring the film will play in the theater closest to them. Note: I'm met Harold Finch and read his book.  He truly is an inspirational man.
Encourage one another and build each other up – 1 Thessalonians 5:11