Here's today's dispatch from the crossroads of faith, media and culture.
Story ARC. Space Warriors, the second original installment of the new weekly Walden Family Theater franchise, premieres tonight (May 31) at 8:00 PM ET on Hallmark Channel. The production, which stars Mira Sorvino, Dermot Mulroney, Josh Lucas, Danny Glover  and Thomas Horn (Extremely Loud and Incredibly Close), is the adventure of six highly-skilled teenagers (led by Horn) who, while taking part in a summer space camp competition at the U.S. Space & Rocket Center in Huntsville, Alabama, end up racing to save the day when real life astronauts and cosmonauts about the international space station find themselves facing a life-or-death crisis. ARC Entertainment CEO Trevor Drinkwater is among the film's executive producers.
I recently spoke with him about Space Warriors and his company which was founded in 2010 and has quickly become one of the fastest-growing production and distribution companies in the film industry. The company, BTW, distributed The Way, which received very high marks from yours truly. Through our conversation, I learned that the structure of the excellent Emilio Estevez film was actually based on another literary classic. But, before we got into that, I started by asking about the genesis of Space Warriors.

JWK: I watched the film and I can tell you that I can certainly see little boys and little girls eating it up. It's certainly a great film for families to watch together.
TREVOR DRINKWATER: Exactly.
JWK: You're certainly presented with lots of possible projects to take on. What attracted you to this particular script and concept?
TD: Exactly what you just said. We're very interested in doing family films and, in particular, family action-adventure films. We also know that films that are focused on really kind of celebrating parents and strong families do well on DVD as well as on TV. And then the added benefit of having this really about space and technology and the ability to send a good message about how we need to continue to focus on that here in the United States.
JWK: The recent space station emergency was almost like a real-life promotion for Space Warriors.
TD: I know. (Good) for our film, maybe not for the space station.
JWK: Well, at least the real-life story also had a happy ending.
TD: Right.
JWK: I see what you're saying about the movie encouraging a new generation to embrace the adventure of space exploration.
TD: Right.
JWK: How did you assemble such a strong cast?
TD: It really started with Thomas Horn. When we found Thomas Horn and he became interested it was right off his big success. (Extremely Loud and Incredibly Close) was a really good film for him. We thought he was perfect for the role because he really is similar to many of the campers that are there. Having him attached allowed us to go and fill in around him. We got Josh Lucas and Dermot Mulroney. Then Mira came on Danny Glover came on. It was really exciting how we were able to fill out the cast. That's kinda how it happens in these things. You get one really committed cast member and everything else seems to fall in place.
JWK: It's a feature-level cast.
TD: Exactly.
JWK: You mentioned reigniting a passion for space exploration and science among young people. What else do you hope the film accomplishes?
TD: What we're trying to do is show that there's a real business here with these family films — not that that hasn't been proven before. We really believe that you can produce films like this at a good price outside the studio system and have the look and feel and the quality of a studio film. Because of the way that we produce the film and the partnership with the U.S. Space and Rocket Center made this film feel a lot bigger than what the actual budget was. So, we're hopeful that we'll be able to show that this is a successful financial model and encourage other investors and partners to want to get involved in more films of this nature that can be great entertainment for the whole family but also have some sort of message to it.
JWK: It's definitely running counter to most of what's being done — especially on the broadcast networks — lately.
TD: Absolutely.
JWK: Is there any chance that any of these films you're developing with Hallmark Channel and Walden Media will result in an ongoing TV series?
TD: We really believe Space Warriors, in particular, has the ability to become a series — if not, a franchise. When I first looked at this with (fellow executive producer) Spencer Proffer we looked at it in the vein of the Air Bud series that was launched with a theatrical film and became…(13) films. What's great about this concept is that every year there are new campers so we can have some of the current team but we can also add teams to it and counselors. So, we do believe that we'll have a Space Warriors 2, 3 and 4. That's the hope.
JWK: I visited the ARC Entertainment website and found that you're also involved with Kickstart Comics.
TD: Kickstart Comics, which was started by Jason Netter, we're in very close partnership with them. They work on most of our productions. (Jason) also has years of experience in animation. We've produced a few animated holiday specials. We're (looking at) some animated features and, potentially, some animated TV series. We also co-developed 30 graphic novels that are all PG in nature that we believe thatwe can turn into films as we move forward as well. They're a very close partner of ours and a great production house.
JWK: How did ARC Entertainment begin?
TD: Well, I started my career way back when in the food business with Nestle Foods and then went to Warner Brothers. When I was at Warner, what I realized was that the studios do certain things very well but, when it comes to managing smaller independent content, it's not really something that they are set up to manage appropriately. So, I felt always like there was a real opportunity to create an independent that operated like a major studio in the way that we manage the brands — market them and distribute them —  but do it in a way that is…a little more transparent and more collaborative with the creators. That's really why I ended up starting ARC was to take advantage of that opportunity that I think is becoming even a bigger opportunity given that that studios are so focused on their big tent-pole titles and properties that it's hard for anything that not Harry Potter to get made nowadays.
JWK: Walden Family Theater is quite the synergistic partnership with you guys and, of course, Walden Media and Hallmark Channel — as well as P&G and Walmart as sponsors. And, I guess, Kickstart is involved.
TD: Right. We're all of like minds. Our advertisers are very supportive of family content and are frustrated with the lack of brand-appropriate programming for them to advertise on. We think it's a good situation there on that and, obviously, Walden Media their entire mission is really spot on compared with what we're trying to do here. We're just really excited and blessed to be in alliance with all those partners.
JWK: You mention the shortage of brand-appropriate programming for companies like Walmart and P&G. Why do you think it is that, despite strong box office for family and faith-friendly films and the even the recent success of The Bible on History Channel, that the television networks, in particular, seem to resist what is an obvious audience demand?
TD: You know, our business isn't as fact-based as you would like it to be. When I was in the food business, it was very analytic. We were focused on consumers' shopping habits and managing brands. You get into the entertainment business and every product is new. So, I don't think people are as analytic as they should be is one issue.
The second is that most of the decisions that are being made on what programming is produced are happening in New York and LA. If you spend as much time as I do in Danville, Arkansas or in other parts of Middle America, you realize that we're a little different in the fly-over states. I don't think they have as strong a voice as they should in the programming that is being made. I think far too often the programmers that are making those decisions are relying on focus group information — or their local group information — that is just not consistent with what the audience really wants. So, we're really trying to change that trend and to work closely with these advertisers…and trying to work closely with consumers in understanding what mom wants for her family to watch and trying to provide that content. That's one of the big things we're asking people to do is, if you do support it, than support it. Because the biggest way to get more of this content made is for people to buy movie tickets to family films or DVDs or watch The Hallmark Channel. That's really how we're gonna change the trend.
JWK: It seems to me that movie product seem to be more influenced by actual consumer demand. Through cable and the questionable use of demographics to inflate a particular show's apparent popularity over another, has managed to insulate itself from what their own viewers want and are looking for.
TD: That's part of it. Also, just think of the business model. On the theatrical side, the marketing team and the people that develop the content work as one unit. In TV, the programmers are typically different than the people selling ads. Programmers are using their best judgment and, sometimes, I think that is a sort of New York-centric and LA-centric judgment on the kind of programming that should be out there. They hand that over to the ad sales people who then go find people to buy ads for the shows.
If the marketers and the programmers do a poor job picking a theatrical film, they find out quickly because consumers just don't go. But, to your point, (with television), ad revenue comes in, subscription revenue comes in regardless of the quality of content. It's not as an immediate (financial) feedback system for the broadcasters. I think that's part of the problem. The advertisers have to be more aggressive in telling the broadcasters that they want this type of content. I think part of that also comes with how they're measuring ad effectiveness. Ad effectiveness is being measured off of how many eyeballs they reach and sometimes it's easier to reach eyeballs on a non-family show than it is on a family show. But that doesn't mean that the brand was effective in that ad that they ran. Research has shown us that, for these advertisers, when they advertise on programming that is consistent with their brand, it's much more effective than when they advertise on shows that aren't. I think more advertisers need to be very disciplined in how they spend their ad dollars and that will start to change it slowly.
JWK: So, what's coming around the pike for ARC?
TD: We have Space Warriors, obviously (tonight) and then we have four more films after that will be on Hallmark that we're really excited about — which are Dear Dumb Diary which is based on the bestselling book, The Watsons Go To Birmingham which is going to be a really fantastic film also based on a bestselling book and then we have The Hunters which is based on a graphic novel.
JWK: A Kickstart graphic novel?
TD: Exactly. It's one of the ones that we did. It's a really fun story. The basic premise is that Snow White's mirror controlled all the power in the world and the good guys figured that out, and broke the mirror and hid the pieces around the world. The bad guys are trying to get the mirror back together. (It's) a family adventure…And then we're in post (production) on Pete's Christmas. That has another fantastic cast. It's a really great Christmas title. (Pete) basically messes up the family holiday and is destined to repeat it. So, it's a little bit of a Groundhog Day for him. He has to get it right and then release himself from repeating the day. It's a really fun film and it's got a great cast.
So, those are the primary films that we're focused on but then we also have some animated features that we're working on and ARC also acquires and distributes a lot of content. So, we also have some family films that we'll be releasing on DVD or limited in theaters at the end of the year.
JWK: Do you ever do films that are more geared toward adults — and by that I don't mean R-rated but just geared toward adult sensibilities.
TD: We're very proud to be involved in The Way.
JWK: That was a great movie.
TD: I love that film. Emilio (Estevez) is a dear friend and such an amazing talent. So, we did that. Then we distributed For Greater Glory and Seven Days in Utopia which was another good film. So, we love to be involved in those films as well. It's even more of a challenge though. It's hard to get older men to go to the movie theater.
JWK: I've seen and reviewed all those film. I particularly liked The Way.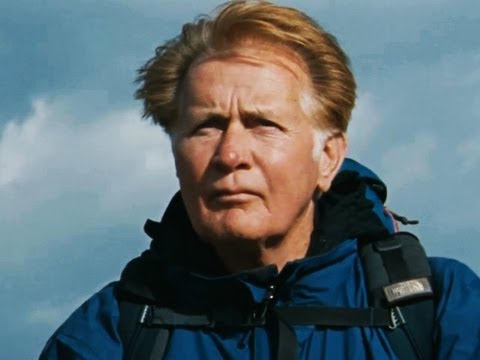 TD: Fantastic. Do you know the basic structure of the film — the classic movie that it was based off of?
JWK: No. I'm curious. What would that be?
TD: The Wizard of Oz.
JWK: Oh, wow!
TD: Martin (Sheen) is Dorothy. The tornado was the death of his son. He gets to the Camino and he goes down the Yellow Brick Road. He runs into the Scarecrow, the Cowardly Lion and the Tin Man.
JWK: You're right! I never thought of it but I can see it now clearly. That's amazing!
TD: It's really fun to let people know of that.
JWK: Was that the intent from the beginning?
TD: It was. I think as he (Emilio Estevez) started to get into it started writing it he thought "Wow, this could really be fun if I build this framework around this classic tale."
Note: Those tuning into the premiere of Space Academy tonight (May 31) at 8:00 PM ET on Hallmark Channel will be given the opportunity for a  real-life family space camp vacation. Details here.
Encourage one another and build each other up – 1 Thessalonians 5:11