Here's today's dispatch from the crossroads of faith, media and culture.
Friend of the Poor: The Pope Francis Story. As reported here on Wednesday, that's the title of producer Christian Peschken's just-announced a film on the life of Jorge Bergoglio, the man who would become Pope. It's a major project with $25 million budget and theatrical release planned for some time next year. Already on board to make it happen are director Antonio Cuadri and cinematographer Vittorio Storaro. Andrea Tornielli and Edward Petin, two highly-respected and Vatican experts, will serve as script and project consultants.
I've spoken with Peschken about the project. Here are highlights from our conversation:
JWK: How did this movie come about?
CHRISTIAN PESCHKEN: After the conclave, I watched everything and this person appeared on the balcony as Pope Francis. I thought immediately that what a great scene for the end of a movie about the life of this man. That was the first thing because it was a great shot. You see the hundreds of thousands of people there.  What struck me first was the humble gesture of this man. Most people who are on balconies speaking to the masses, they raise their arms, they have these large gestures to greet the people. They look like Caesar.  But this man came out there, hands down and then talked into to the microphone and said "Good Afternoon."  This to me, in a way, sets the spirit in which this new pope will conduct his entire papacy — to be humble, to point at Christ always and to live what he preaches.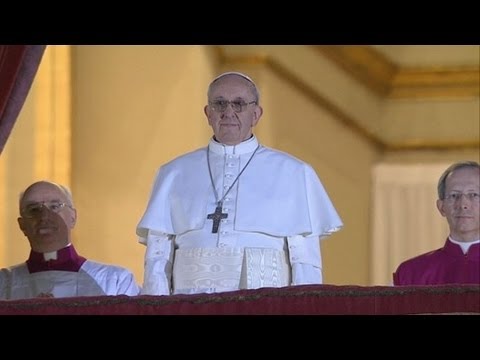 CHRISTIAN PESCHKEN (CON'T): Then, a little time later, I thought it would be interesting to make a movie about who this is. Who is Jorge Mario Bergoglio?
For two reasons. First of all, I think the pope has  a great chance — an opportunity — to reach across the aisle to other religions. Pope Benedict and Pope John Paul II did that but this pope, in a special way, has an opportunity and also a means by the way he conducts himself to reach over to Jews, to Evangelical Christians and to all religions and the non-religious.  I think people will see what this man has done and that this is not a show. This is not an act he puts on. This is his whole life. His whole life he's been this very same person. He hasn't changed. It would make an interesting film to work out who this man is.
Now, there are other films in the market about popes. For example, about John Paul II there are a few movies in the market. I watched them, particularly the one with Jon Voight. What I personally missed in these films is that you never get to know the person, really. It's almost like a piece of a puzzle — piece by piece events that you cobble together and you know that they happened but you never get close to the person. You never feel that you get to know the person.
JWK: What source materials do you plan on using for the film? Will it be based on a book or original research for the film?
CP: First of all, I have as  a project adviser and script consultant a person by the name of Andrea Tornielli. He wrote the book Francis: Pope of a New World. The book was released by Ignatius Press a few weeks ago. Andrea Tornielli is an Italian writer. He's a Catholic and he knows Jorge Bergoglio since he first came to Rome around 2002. He knows about him and wrote that book about him. He is adviser on the project and co-writer of the film.
In addition, we have people that knew Cardinal Bergoglio personally in Argentina  that we are in contact with. There are a lot of stories we have gathered from these people.
JWK: How do you plan on distributing your movie? Will this be for theatrical release?
CP: Johan Sturm's company AMG Films — and, by the way, he's an Evangelical Christian — is the sales agent. They have a first-look deal with Warner. All the movies AMG Films does have an Evangelical theme in one way or another. We are very confident that this movie will get a theatrical release.
JWK: When do you begin filming?
CP: We plan to shoot the film early next year in Rome and Argentina. In Rome we'll film at Cinecittà Studios.
JWK: What to you hope the film accomplishes?
CP: I hope it tells a story about a man with a mission, with a destination that is a testimony to how God works through people. And that people see the movie and understand this and think about it. My objective is, basically, to give people a story about a person who eventually becomes pope  and who teaches us how to be humble people and to listen to God. That's really the bottom line. That's the movie.
JWK:  His story provides a bit of a contrast to what some see as the excesses of the Catholic Church in recent years.
CP: Yes. Absolutely. He goes back to the basics.
JWK:  Is there anything else you'd like to say about the film?
CP: The cinematographer is Vittorio Storaro. The director will be Antonio Cuadri. All these people are practicing Catholics, all of them.  But that's not the reason I reached out to them. These are high caliber people. Vittorio Storaro did major Academy Award-winning motion pictures with big directors.  It's really interesting how easily I gathered these people to the project. All these people answered me within a day or two with a letter of intent. That's also a sign to me. They are Catholics, sure, but they are also very interested  in making a movie for everyone. This is not a Catholic film. A pope commercial or a Catholic propaganda film is precisely what I don't have in mind.
JWK:  This is a film about a human being who happened to become pope.
CP: Exactly.  And why do I do this now? Because people will now pay attention. People are focused on the Pope and it's a good time to put up a Jesuit priest who really tries to live what Jesus tells us about how to live and how to serve others. This is a great, great testimony for how the Church should be.
JWK:  Do you think his particular papacy is a chance for the Church to sort of reboot itself after a tough decade or so of negative headlines?
CP: My personal opinion is that Pope Francis will reform the Catholic Church — reform in the sense of going back to the roots and do what Jesus told Peter to do. I believe that this pope will turn the Church around. And, you know, you have some other interesting dynamics regarding the life of the Church and Christians in general. The tougher, I think, the persecution the more the Church rises. It's a dynamic and we are in almost the perfect time for this pope because Christians are being persecuted all over the world. And not just the Catholic Church, all Christians. The Pope, because of the way he presents  himself, can reach over and reach out to fallen-away Catholics and Protestants.
I believe that this pope will cause a reform — and when I say reform the pope will not change the doctrines of the Church. Homosexuality and same sex-marriage, I don't think the Pope will change that or ordain, all of a sudden, some woman to the priesthood. He is a hardline Catholic. You read about his past. He's not compromising the teaching of the Church but I think he has the ability, through the way he conducts himself, to explain things that we might not have seen.
JWK:  When do expect the film to hit theaters?
CP: The release will be next year.
Encourage one another and build each other up – 1 Thessalonians 5:11