Here's today's dispatch from the crossroads of faith, media and culture.
Their debut album, Advent at Ephesus, spent six weeks at #1 on Billboard's Classical Music Chart and Nielsen SoundScan crowned them the #1 Classical Traditional Artists of 2012, now the Benedictines of Mary, a group of 22 young contemplative Catholic sisters based in the heart of rural America, are set to release their sequel CD. Angels and Saints at Ephesus on May 7th.  As the title suggests, the collection features 17 English and Latin pieces sung a capella in praise of angels and saints of the Catholic Church.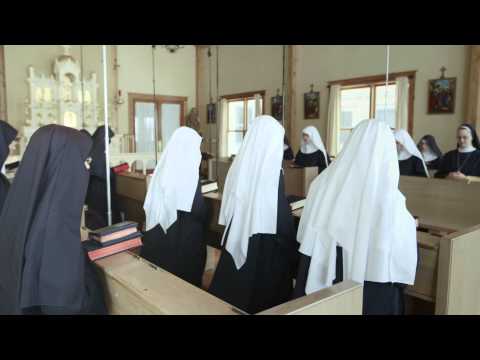 Monica Fitzgibbons is the co-founder of De Montfort Music, which along with the Decca Label Group, is bringing the sisters' musical talent to the secular world. As I did prior to their first release, I had the opportunity to ask her some questions about the singing nuns.
JWK: How have the sisters' lives changed since the success of Advent at Ephesus? How are they balancing their contemplative community life with a bit of celebrity?

MONICA FITZGIBBONS: Believe it or not, they have managed always to stay close to their adherence of The Benedictine rule of life; this keeps them grounded in the heart of their community life, and with that there is not much time for contemplating any celebrity or reading any fanfare.  They are aware of the success of Advent at Ephesus through things like personal heartfelt letters from parents with handicapped children who have found a calm that eluded the family until stumbling upon the music of The Benedictines of Mary. They have received many notes like this that have shown them how this music has touched the hearts of a world in need, and for a time, has helped in providing peace and beauty to otherwise hectic lives. To this end, it is apparent that these are the things that they are holding onto from the releasing of the music and with that comes a greater gratitude to God for this opportunity to be used literally as "instruments."
JWK: What do the sisters hope to accomplish with the release of their latest CD?
MF: They wanted to respond to requests that came from people who enjoyed Advent at Ephesus but wanted something that could be listened to year round. These songs provide just that opportunity! Also, they are open to providing music that can bring an awareness to The Divine Office, which is so much a part of their daily prayer and singing through shining a spotlight on the contribution of the angels and Saints to Vespers, etc., they share with the world a little gem of what they experience daily. I'm sure that they hope to accomplish whatever God wills in the releasing of their music. In this way, they are detached from the usual trappings of success and fame.
JWK: What is most appealing about the Benedictines of Mary's new album?
MF: Well, the way that this album is produced really puts the music into the context of classical music, and it is a more mature-sounding presentation of the repertoire.  The Polyphony, Gregorian Chant and Hymns (some written by the Sisters themselves) is delivered by Holy devoted Handmaids of The Lord that provides the listener with the opportunity to hear what it sounds like from those who believe and hang on every expression of note and phrase because they emote from the depths of the heart.  They are living these lyrics and this truth in beauty found in the songs. Previously, their music had been only sung privately in their chapel for The Lord.  What is exciting now is that this music has been summoned to go beyond the chapel and out into the world.  Why? We don't know, but it sure is exciting to be part of it!
JWK: What role could Angels and Saints play in the Catholic Church's New Evangelization?
MF: A wonderful question!  I hope I can do it justice!  One thought that comes to mind is that the Saints are wonderful models to learn from. They have written many songs on this recording, such as St. Alphonsus, St. Francis Xavier and St. Therese, The Little Flower, wrote the lyrics to A Rose Unpettaled, which the Sisters then set to music. The Benedictines of Mary have shown through their fidelity first to The Faith that their music can then go on to elevate souls to the everlasting.  In addition, when listening to this music one cannot help but feel as if being surrounded by angels — it is truly heavenly!
JWK: How did you get nine-time Grammy-winning producer Christopher Alder and two-time Grammy-winning engineer Mark Donahue aboard and what impact did they have on the final product?
MF: I love answering this one!  We had the wonderful experience of having one of the most world-renowned classical producers (Christopher Alder) express interest in the Sisters' music, and ultimately, he agreed to come from Germany to produce Angels and Saints at Ephesus, building a state of the art mobile recording studio in their priory.  Due to the fact that Mother Cecilia has an extensive background in classical music training (recall she vacated her top seat in the Columbus and Chicago orchestras when entering The Benedictines of Mary),  she then very much spoke the same music language as Chris and Mark, (who is also quite talented with regards to classical music engineering, etc.). Christopher also worked with the choir to inspire certain accents and contrasts that made this collection ultimately the masterpiece that it is!
JWK: What's your personal favorite track from the new CD?
MF: Ooh, that's a tough one. Well, mood depending, if wanting to put on the headphones and get the full wall of sound of the angels, it's Duo Seraphim. But then there will be certain sentiments that lead me to O Deus Ego Amo Te (written by St. Francis Xavier), and that song while reading along the lyrics: O Deus, ego amo te, Nec amo te ut salves me, Nec quod qui te non diligent, Æterno igne parent. Ex cruces lingo germinat, Qui pectus amor occupant, Ex pansis unde brachiis, Ad te amandum arripes. Amen.
Which meant: O God I love Thee for Thyself and not that I may heaven gain, nor yet that they who love Thee not, must suffer hell's eternal pain. Out of the bud of the wood of the Cross wherefore hearts' love embraces, whence out of extended arms you lovingly take us. Amen.
Be assured, lyrics and translations come along in the CD booklet!
JWK: Are there plans underway for a third CD? 
MF: The Sisters are always singing, so our job is to just try to keep up. We'll have to get back to you on that!
JWK: What are your future plans for De Montfort Music and (its parent company) Aim Higher Entertainment?
MF: We have The Dominican Sisters of Mary, Mother of the Eucharist coming out on De Montfort Music, with their debut recording August 13, so that is going to be a huge honor to release the music from their community! There are other recordings we are working on for other communities as well.
Aim Higher Entertainment has two artists being developed, and there should be more to report on this later in the year!
Note: Angels and Saints at Ephesus can be pre-ordered now at Amazon.com.
Encourage one another and build each other up – 1 Thessalonians 5:11