Here's today's dispatch from the crossroads of faith, media and culture.
Chip off the old block. As mentioned in this space yesterday, I had the opportunity to participate in a media conference aimed at bringing attention to tonight's premiere (8:00 PM ET) of Walden Family Theater on Hallmark Channel. The first offering of the new weekly franchise is Return to Nim's Island, a world-premiere sequel to Walden's 2008 theatrical hit Nim's Island. Bindi Irwin stars as the now 14-year-old Nim who finds herself struggling to protect her animal friends from ruthless resort developers and greedy wildlife poachers. Bindi, of course, first became known as the daughter of the late Australian conservationist Steve Irwin (aka The Crocodile Hunter) but is fast becoming a star in her own right.  Like her parents, she is deeply devoted to the love and caring of animals, a commitment which made her a natural choice to play Nim.
I must say I was very impressed with her poise and just plain niceness during the call. She's a talented girl who we can expect to be hearing a lot more from in the future.
Here's what she had to say during the media call. I think you'll be as impressed as I was.
Moderator: Bindi, if you wouldn't mind for just all the people on the call, we would love to hear you talk about your role, we know you're on a press tour, so you've been doing this many times this last couple of days but I've heard you do it a few times I know you do a brilliant job of it. I'm just explaining about what your vision for being a part of "Return To Nim's Island," and playing Nim, and, what that's like for you and maybe just what is it that made you want to be involved with this film?
Bindi Irwin: Oh, absolutely well, Return To Nim's Island is such a brilliant film, I think, because not only is it action-packed filled with animals, poachers, death-defying action, but, you know, it also has a beautiful message of family, and wildlife, and conservation, And I hope that when families come to watch this movie they will accidentally learn something along the way and feel empowered to be the change that they wish to see in the world. You know, "Return To Nim's Island", I was so honored to be asked to play the role of Nim, because I loved the original film, the 2008 film Nim's Island. And so, to be able to play Nim in this second movie was so special and such a wonderful opportunity that I felt so extremely honored to do so. You know, I'm a strong believer in kid-empowerment. I think that, as kids, we're the next voters, we're the next decision-makers and we are the next generation to be making a difference on planet, so I believe that it's extremely important that we stand up for what we believe in, and what we know is right and that's what Nim is doing. Even when the whole world seems to be stacked against her she still stands up and makes her voice count, and makes her voice heard. So, it's an inspirational film that I think that everyone will be able to relate to and hopefully everyone will enjoy as much as we love to make it.
Moderator: Thank you so much. A lot of people have actually asked us, do you have a lot in common with Nim's character, which I think we know what those things are, but if we could just hear it direct from you with, with some of the things that she deals with some of think she's gone through, "Do you have personally a lot in common with her, we would assume so but can you just help us understand a little bit more?"
Bindi Irwin: Yea absolutely. Well, personally for me, I feel like I have a lot of traits in common with Nim. Firstly, her determination and her passion for everything that she loves. In real-life I'm a passionate wildlife warrior. And you know, in the film, Nim is trying desperately to protect her home from being developed. She wants to keep her island pristine and untouched and in real life, at the moment I am trying to protect a place called "Steve Irwin Wildlife Reserve" from being stripped-mined. Here in Australia, up in Cape York, up in Northern Queensland there's this beautiful reserve which was set aside in honor of my dad, Steve Irwin, and this beautiful area wants to be mined for bauxite. Now bauxite are little rocks that make aluminum (Australian pronunciation), or aluminum (U.S. pronunciation) (laughing). And, we're trying to protect that at the moment so we've got over 400,000 petition signatures already signed and are encouraging people to go to AustraliaZoo.com and held us with the battle. But there's so many ways that Nim is like me. She has lost one of her parents, she lost her mother. In real life I lost my dad. And so I think that if kids are able to watch this movie and become inspired to carry on, there's a real sense of family in this movie. Nim has such a wonderful relationship with her dad and for me I, my dad was my super-hero. He was like a living, breathing, super-hero for me and I truly looked up to him, and I still do. So and I think that this movie has a great, great, family message. And to be able to share with people that family is different all around the world. Family doesn't necessarily mean that you have to have a mother, a father, a little brother, and an older sister. You know, families' dynamics are completely different in every case so I mean family doesn't even mean blood related it can mean your best friends or people closest to you. And so to have the people closest to you, that's all you really need in life. I mean, I believe that the meaning of life is unconditional love. So, it's a great message that I think comes across in this movie to, to never give up and to really appreciate people that you have around you.
Moderator: Great, thank you so much. You know, I know you've touched on it, we've kind of been going through this on this call a little bit where a lot of times people, things people are saying in their answers are some things somebody else asked, you know a similar question to, so you've answered a little bit of this question already, but is there something specific that through this airing of "Return To Nim's Island," through this family movie, and just a chance for families to get together, around their TV through Walden Family theater, is there something about the specific that you hope that children receive from watching this movie?
Bindi Irwin: Well absolutely, when people, when families sit down to watch this movie I hope that it will bring them together and they have this great sense of being able to share a wonderful, wonderful film, have that entertainment and feel as though it's a great movie for everyone to be able to watch. But I also think that kids especially will get a sense of feeling empowered after watching Return To Nim's Island. That's my great hope, is that after watching this film, kids go "I want to be that, I want to do that. I want to be Nim! That, I admire her." So, to be able to look up to someone, you know is such a big part of life. And hopefully after watching this film kids will feel that. You know, a few years ago I was maybe nine or 10 years old, and I was watching a really old movie. And the movie was still in black and white but it was fascinating movie because one of the actors in the film said "Children should be seen, and not heard." Now I had to ask my mom what that meant and she told me that back then kids didn't really get to have a say. They didn't get to speak their minds. They wouldn't talk unless they were spoken to. And I thought that was really sad, so now we live in such a unique day and age, where as kids we get to have a voice and we can choose our own destiny that I believe it's so important that we use that and, and that we speak our minds and stand up for things that are close to our hearts.
Moderator: Thanks. That's great. Will you talk a little bit about your co-stars in the movie with Matthew and Toby, and what we like to work with them and some of the fun experiences you had on the set?
Bindi Irwin: I had a brilliant time working with the entire cast and crew at Return To Nim's Island. It's amazing how, after working on a film you really become a family and you build these really special bonds together. Working with the other actors was brilliant. Toby Wallace who played Edmund is a terrific actor and I certainly believe that he's going to go places in life. Watch out Oscars (laughing). Here comes to Toby. But, behind the scenes it was also really fun. I think that I and Toby, we covered all the political issues of the world and any environmental problems facing the planet today with all of our long debates (laughing), but we had a great time together. I also loved working with John Waters. John Waters played the poacher in the movie and he was, he was terrific. John Waters is a true legend, I think. He's such an accomplished actor and is done so much in his life that it was great to be able to work with him. When I was really little, John Waters was in a television series called Play School, and so ever since the time that I was first hatched (laughing) I've been watching John Waters. So to be able to work with him in this film was brilliant. And also I have to say the director of Return To Nim's Island was extraordinary. Brendan Maher was such a professional and funny person. He made every day on the set exciting and hilarious. He always made the whole crew laugh out loud and it was great to be able to learn from him. He held me a lot with acting as in the past I've done some acting work and a little bit of hosting work so he helped me expand on my acting work and gave me a lot wonderful directions, so I felt very privileged and extremely blessed to work with the best cast and crew on the planet.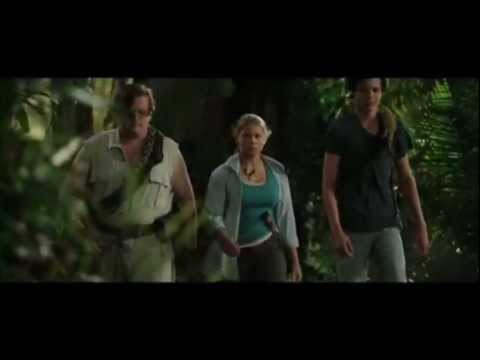 Return to Nim's Island, the premiere edition of Walden Family Theater, airs tonight (3/15) at 8:00 PM (ET) on Hallmark Channel.
Encourage one another and build each other up – 1 Thessalonians 5:11