Here's today's dispatch from the crossroads of faith, media and culture.
Over 100 pregnancy centers are expected to screen Crescendo during one-night premiere event on Feb. 28th. Movie to Movement, Jason Jones' grass-roots organization dedicated to using films to better humanity, is utilizing the premiere of the 15-minutre film he produced with his Bella collaborators Eduardo Verastegui and Leo Severino organized the screening with the hope that they raise over $1 million for pregnancy centers around the country.
"We are urging everyone to join together and celebrate the incredible potential of every single human life," Jones says, adding "Over 581 women chose life after seeing Bella and we know that Crescendo will continue to inspire a global movement that transcends time and cultures to communicate the dignity and worth of the human being."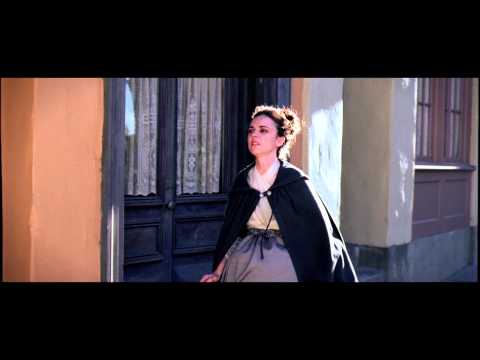 Set in the 18th century during the latter years of the Holy Roman Empire, the pro-life Crescendo follows an extraordinary day in the life of one particular woman of the era. The short film was written and directed by Alonso Alvarez and stars Ali Landry, Montserrat Espalde, Patrick Nuo and Jennifer Cadena.
The movie, which was shot entirely on the Universal Studios back lot, has already seen success in the film festival circuit where it won the Crystal Heart Award at the 2011 Heartland Film Festival and top short film honors at the Hollywood Film Festival, among other prizes.
The film is also garnering accolades from pregnancy centers that support its pro-life message of love, hope and redemption.  Heartbeat International President Peggy Hartshom, for instance, says the movie is "riveting and it's powerful and life affirming finale will stay in your heart." She adds "What a unique, enjoyable, and beautiful way to raise a much needed million dollars to save and change lives in our pregnancy help centers, clinics and housing ministries!"
In conjunction with the one-day screening event, many women are coming forward to share their personal stories of how movies like Bella changed their lives and the lives of their unborn forever. One of them is Crissy Stanley who, reflecting on how the film Bella impacted her life says "It's funny how one moment can change your life forever" Movies," she notes, "have a way of working their way from the screen, and into your heart. The cast reminds you of family, and the story reminds you of…your life. The message follows you, and inspires you; you've become one with the meaning as you pass it to inspire others. It's a powerful thing. Because of Bella, I decided to choose life and am now the proud mother of beautiful twins, who are my 'miracle babies' that I can't imagine my life without."
For additional information on Crescendo, including how to book a screening, you can go to www.movietomovement.com or www.cpcmovie.com.
Encourage one another and build each other up – 1 Thessalonians 5:11