Here's today's dispatch from the crossroads of faith, media and culture.
The spirit is willing but the flesh is weak. With the Christmas holiday behind us, a few additional pounds (quite likely) with us and the New Year before us, if you're like me, you may be considering the notion of finally getting in shape — unless, of course, you're one of those people who are actually in shape. But, regardless of one's current physical condition, Prayfit founder Jimmy Peña says building up one's body is not — or, at least, should not be — an act of vanity. The body, he says, is but a vehicle for serving God and, as such, it is our duty to keep it functioning as well as possible.
Toward that end, he has just released his new Prayfit 33-Day Body Toning System which is currently available on DVD and through Digital Download and On Demand from Lionsgate.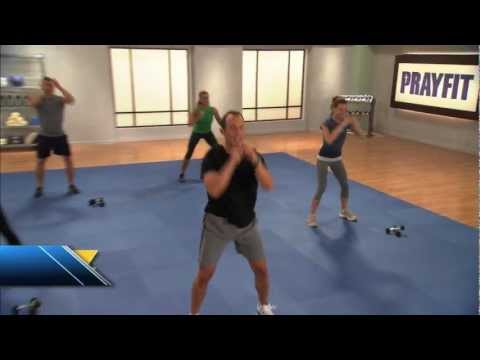 I recently spoke with Jimmy about the connection between spiritual and physical health and what he hopes his new video program will accomplish.
JWK: What is it about your background that led you to get into the whole fitness and faith area?
JIMMY PEÑA: Years ago, I earned a master's degree in physiology but before that I became a Christian…(I) dedicated my life to Christ in the eighth grade actually. (I) was always athletic and (into) fitness. (I) just loved being active (and) grew up in a very competitive home. Well, anyway, after college I attended graduate school and earned my masters in physiology, studied the effects of endurance training on muscle and just was ingrained in the fitness lifestyle. (I) was blessed to be an editor for some popular magazines and was honored to (work with) some famous celebrities…(I) helped them write their books and get ready for a certain role. But all the time I realized, "Hey, Listen, as a believer I know life is not about the body." And so the Lord inspired me to create a website called Prayfit.com that meshes the two together. (It's) a place where believers could go to encourage them to take care of themselves and honor their health as a means of praise and honor their health (as a means) to serve others. At the same time, it's a place for the fitness minded to gain perspective because we really believe that our health is not about vanity…
…A few years ago, we wrote our first book and we were blessed. Mister Tyler Perry mentioned us on The Tonight Show and it kinda propelled us. We were on his shoulders basically. Then we got the relationship with the wonderful people at Lionsgate to create these DVDs. So, the DVDs are just more resources.
JWK: So, you worked with Tyler Perry.
JP: Correct. I was honored to be his physiologist for a number of years. He's such a sweet friend and so good to us. That's kind of how Lionsgate found out about us. And we started that relationship.
JWK: You've also had Mario Lopez and LL Cool J as clients.
JP: Former clients. I don't necessarily work with them anymore, so I always put (that) in the past tense — "clients have been" those individuals. Still friends, obviously, but I'm focused all on writing and serving the community of PrayFit.com now.  So, that's kinda how it all kinda began.  First, as a believer. Then, as a fitness expert. I meshed them two together. I like to say that…I'm a forgiven, passionate follower of Jesus, cleverly disguised as a fitness expert.
JWK: What the natural connection between fitness and faith?
JP: It's interesting because good health is not our idea. Good health was God's idea…The Lord looks at the heart but then he also says to honor the body.  We don't see that as a contradiction. We see that more as a priority list. God sees the heart. He doesn't look on the outside. At the same time, neglecting the body, neglecting our health, that's a heart problem. That's a heart issue. So, the two go together because, quite frankly, our hearts, our souls, have work to do. We have communities to serve, churches to help and people to assist. Our souls have work to do and our bodies are practical tools, practical vessels to get our souls where they need to go…Paul says "I discipline my body" — like an athlete training it to do what it should — but Paul didn't discipline his body to turn heads in (vanity). No, he disciplined his body to change hearts.  And that's really what our bodies are for — to serve.  So, as believers we have to realize that in order to make that possible…
…And then I believe in perspective. We like to say "Life is not about the body but our health is a means of praise." When we think about that and we gel that combination, there's no mistaking the connection between the two. We've never been anywhere without our soul and vice versa. So, it's divinely connected.
JWK: How do you recommend that people utilize your new DVD and the website?
JP: The website is a wonderful place to start. We have daily fitness devotions to motivate the heart and inspire and encourage perspective. We also have…these new DVDs and they're stand-alone DVDs. They (also) work together in combination. We created them as tools, as resources. One of them is a body weight only plan — which was so successful last year, so helpful to people and churches across the country.
And this second DVD — which we're so excited about —  is…much like the first DVD, steeped in grace, realizing the limitations of the body and yet how it can be so strong and can help believers get healthy. That's how it's similar to the first one. How it's different is we're tackling each body part. We're strengthening each body part with weights, with free weights, we're tackling the core, and cardio and flexibility and all sorts of physical attributes — all to encourage and strengthen people's habits…We modeled it for 33 days because, Number One, we wanted to honor the life of Christ (33 years).  Not only that, but research shows that a month-long program is excellent at helping people create habits. So, the two combine. It just has been a wonderful meshing of the two.  We're so excited about the feedback we're getting. And it's day in, day out. Anyone can do it — whether you're a beginner or someone coming off a layoff or an injury or even a seasoned athlete — because these DVDs are designed to challenge you and you alone. So, you're working against your own best effort. We like to say that "Yesterday's best is today's quest."  So, you just tackle it each and every day. Spend time on your knees in God's word and use faith because truly faith is really the single greatest tool we have that God gave us to conquer this life. And that includes our health. But, again, we always like to stress the fact that grace is the reason we don't have to worry about perfecting a body that won't last. But grace is also the main reason to honor it for as long as it does last…
…You try and beat yesterday's best. That is the goal for the day. That not only works spiritually but also physically because the body will only change according to the level (to) which you stress it. It's called the Overload Principle. So, each and every day asking your body to do more, to do better, challenging it. So, as the spirit strengthens — and as our faith deepens — our body can improve and we can do more with our bodies because it's really not about the mirror — it's about the One we're trying to mirror.
JWK: That's interesting. Because most physical-fitness programs really put the focus on physical attractiveness. That's nice, of course, but you say that's not the goal.
JP: No, in fact, it's just a byproduct of diligence, of obedience. At Prayfit we don't focus at all on that reflection. We look at the body as a means to react to what God has done in our lives. In fact, there are so many biblical examples of people using their bodies in reaction (to that). When you look…(at) Christmas time, the shepherds. What was the first thing they did when they heard the news? They sprinted to see the Newborn King. The first time John the Baptist was in his presence, what did he do? He jumped. So, there are plenty of people in the Bible who had physical reactions to the Good News of God and that's how we look at it. Sure, the body's gonna adapt and respond and that's wonderful — lower blood pressure, stronger muscles, lower body weight perhaps! That's fantastic! It's just enables us to do more. Sure, one of the byproducts might be a slimmer waistline and physique but it's not the focus. It can never be the focus because it doesn't last.
JWK: So, I guess you would agree that the New Year is a great time to start the Prayfit program.
JP: Anytime obviously is a great time to start. What people will learn through these DVDs is that health is not seasonal.  Whether we start it at the New Year or in the middle of the year, health is not seasonal. It's a wonderful opportunity and privilege and obligation really to serve Him daily. We often say as believers that faith can move mountains and yet sometimes we doubt it can help us move muscle.
JWK: I guess it's an act of faith when you can't do that single pull up that, if you keep it, you'll eventually be able to do it.
JP: Yeah, and you know what, even if you can't, that's the key. It's the effort. It doesn't come necessarily in the success of it so much. But God can be blessed by what we're willing to try and willing to lay down and push away from the table…and attempt to do exercise programs so that we can play with our kids better, or serve our spouse or church. So, again, it's not so much about how many reps or how many pounds. It's really about getting off the couch and really trying and giving it that push, that we were designed to live abundantly. So, that's the encouragement.
_____
The Prayfit 33-Day Body Toning System is available on Amazon, as well as at Prayfit.com. And, of course, it always a good idea to consult with your doctor when beginning an exercise program.
Encourage one another and build each other up – 1 Thessalonians 5:11