Here's today's dispatch from the crossroads of faith, media and culture.
Soul music. Preorder sales at Amazon and Barnes & Noble are turning Advent at Ephesus, the 16-track CD from the Benedictine Sisters of Mary, Queen of Apostles, into quite a hit even before its official November 20 release date. The first release from De Montfort Music (with worldwide distribution by Decca Records) includes Advent hymns and traditional chants that are literally music to the ears of anyone seeking a little calm and contemplation prior to Christmas. We actually received an advance at my house and, I have to say, it's great stuff.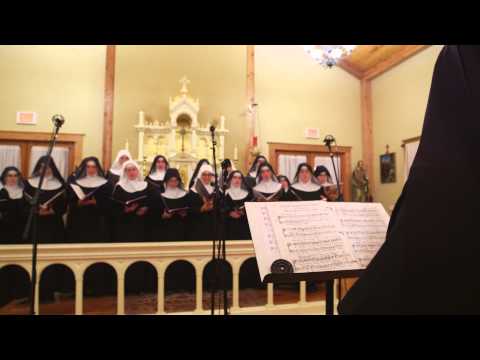 I recently spoke with Monica Fitzgibbons, co-founder of De Montfort Music, about the project.
JWK: So, how did this CD come about?
MONICA FITZGIBBONS: Well, basically, my husband (De Montfort co-founder Kevin Fitzgibbons) have quite an extensive background as executives in the entertainment industry. As we began to progress on our faith journey — and started to have our own family — we wanted to try and not only help bring art to the world that is better in content but also just an artistic value I think was one of the things that we felt was lacking in a lot of the things that we were promoting. So, we just kinda prayed on it and had patience and perseverance and we began a company five or six years ago called Aim Higher Media and we just wanted to live up to that standard of  aiming higher.
We were inspired by St. Maximilian Kolbe who had tried to use the media to magnify God. We just wanted something that was more positive for the culture. We had helped filmmakers license projects and really helped Christian artists, who may not be connected the way that we were, to help bring their products to market. And, underneath that umbrella, we created an entity called de Montfort Music. We had noticed that chant and sacred music has kind of been on the rise (so) we wanted to be a bridge between big entertainment companies and these sort of monastic communities so that they would not have to get outside of their duties and work in order to try to negotiate their way through these global entertainment companies. That what we kind of came up with for our model.
The Benedictines of Mary, who are just incredibly-gifted and talented, just happened be living this monastic life in their contemplative community. So, we went to them and offered to do just that, to be that bridge. They were very excited and eager to bring this music out but not excited and eager to have to kind of figure out the global entertainment companies. So, that's how it all came to be.
JWK: Where are they located?
MF: They're located in rural Missouri — outside Kansas City, about 40 minutes, on a farm, 200 acres.
JWK: Where are you based?
MF: Were based in Naples, Florida.
JWK: How did you connect with this particular order?
MF: Somebody had given us their music and we recognized that somebody involved in getting their music together had some sort of classical training.  We approached Decca Records, which is the largest classical distributor internationally of music, and, because of our background and because of our relationships there, they were very interested in us…bringing them music that they could distribute internationally.  This was going to be the first project and they really enjoyed the demos that I played for them by the sisters. So, we reached out to the sisters. It was kind of informal.  And, because the mother superior does have quite an extensive background in classical music training, she understood the entertainment industry enough to know that the working collaboration between de Montfort and the Benedictine Sisters of Mary had a great potential to be fruitful.
JWK: You're talking Mother Cecilia who I understand was actually in the Columbus Symphony Orchestra before joining the convent.
MF: That's correct. She was and she had a deeper calling and went to figure out what that was. Time took her on this path and now she happens to be the mother superior, mother prioress of this beautiful order of contemplative sisters.
JWK: How many of the sisters are actually singing on the album?
MF: I would say almost all of them. There's only a few who don't. There are about 28 sisters, so really just probably a handful are not. She has them all kind of classically trained and they all just love to sing. They sing six times a day…So, singing already was something they were doing together. So, when they sing, there's a sense of oneness about them.
JWK: What are the age ranges of these sisters? Are they older or younger nuns?
MF: That's the other appealing thing about this for us. Again, looking at this from a spiritual and a promotional prospect, is that they're young. They're very young. They're in their twenties, maybe a few in their early thirties but mostly very, very young. So, you can sort of hear that bell-like purity in their voice.
JWK: I can see a movie in this.
MF: I know.
JWK: Would that be a possibility or is that looking too far down the road?
MF: Well, first we have to get their music out and get the base built on that.
JWK: Do you think their music appeals to mainstream audiences?
MF: Yes. When you look at some of the chant CDs that have been released in the past five years, I mean they've sold millions of copies worldwide…If you can make something that's very high quality in the musicality of it, I think that's just gonna draw people in but, also, there's a number of people who really enjoy the peaceful, meditative background music of this.  We've had quite a few comments from just the average music aficionado who says "I like to have something on that will calm me down, bring me peace, provide me with some quiet moments." I love that it's being released this time of year because it will provide kind of a balance to the busyness of the Advent season leading up to Christmas.
JWK: Would these be considered Christmas hymns?
MF: Actually, the name of the CD is called Advent at Ephesus.  In the Christian Church there's a period of waiting…So, this symbolizes really those four Sundays leading up to Christmas. It symbolizes that walking in darkness and waiting for the Great Light. So, as you listen to this music, it really is very representative of that time of year and…all of us can relate to walking in that darkness and waiting for something  to be revealed. And, as Christians, of course, we know the Good News. That the something is not a something but a Someone and a Who and that's Jesus Christ. The culmination of Advent is to lead up to Christmas and the celebration of the Nativity of Christ.
JWK: There an original work on the CD called Adjuvabit Eam. Can you tell me about that?
MF: That's Latin. They wrote it and arranged it…It is absolutely beautiful! I had the good fortune of being able to be there when they recorded the song. The way the song kind of starts off very quietly and then more harmonies are added and then it sort of crescendos with a more robust sound towards the end the words sort of go back and forth between Latin and English. The last thing that you hear in the song is "Of His Holy Face." You're just sort of left picturing Jesus. It's very beautiful.
JWK: Did the nuns take convincing to do this?
MF: No. Our goal was not to try and convince anybody to do anything…It would have to be a situation where people would want to do this and…have an understanding that their music…benefits the world. I think if we were to go in and really start twisting arms, I don't think it would be a good experience. So, fortunately, there's a few out there who really feel they have a calling to share this beautiful music.  And, to me, of all the different artists that I've ever worked with, and my husband echoes this sentiment, this has to be one of the most beautiful works that we've had the privilege of helping to market and promote.
JWK: Tell me about your journey. You were in the general entertainment industry before you and your husband founded Aim Higher Media.
MF: Our background, John, is that we met in the entertainment industry. My husband was working for Sony Music, Columbia Records essentially. I was working of DreamWorks SKG. We both met and were rising stars in these big career paths. I was the director of marketing there and he was the west coast promotions director. And, really, I don't know, I can only say that God brought us together and we always joke that maybe He was getting sick of both of us and said "I'm putting you together and you figure it out."
So, I can't say that we were really doing anything that wonderfully. Once we did get married and began to have children, we started to (ask ourselves) "What do we really want to do with this background we have?"… It really was a gradual thing that happened — kind of like St. Paul going out to the desert and trying to figure it all out before he went out and did anything else. And, really, we started Aim Higher Media to try and help other artists…get their music, their films — mostly music and films — out and to help them navigate through as they should have the aspirations of trying to put it out globally and (help them) do that within the current, existing entertainment industry and also to help them do it home because there's so much technology now that can really help build a career.
So, with Aim Higher Media, our whole goal is to try and just encourage that little artistic voice that  may be in someone's soul that says "I wish I could just do this project" and to just say "Yes, I can do that!" and the world needs you to do that.
And with De Montfort, we really felt that, if there was going to be chant and sacred music, that it should have its own place. So, we created that for them so that they could feel that this would sort of be their own portal to put out this music and we're very good about including them and making sure that they're leading the charge of how they're being represented, how their image goes and how their music is used.
We just have been blessed with this background to be able to understand the nuances of how these deals go and how to best try to represent them in the culture…Hopefully, we're able to stay with that mission.
Note: Advent at Ephesus can be pre-ordered now at DeMontfortMusic.com.
Encourage one another and build each other up – 1 Thessalonians 5:11