Here's today's dispatch from the crossroads of faith, media and culture.
And the Emmy goes to…? The answer to that question will be settled September 23rd on ABC. But the nominations were announced last week. Some thoughts now on who I'll be rooting for (as an excuse for general observations on the state of television). Click here to view the full list of nominees.
COMEDY SERIES
"The Big Bang Theory" (CBS)
"Curb Your Enthusiasm" (HBO)
"Girls" (HBO)
"Modern Family" (ABC)
"30 Rock" (NBC)
"Veep" (HBO)
Comment: Not having HBO (why pay to see Bill Maher?),I've never seen Girls or Veep. Somehow I have caught Curb. While it had some moderately amusing moments, I'm a bit tired of nihilistic sitcom style popularized by David's own Seinfeld. Plus, the episode where Larry (accidentally) urinated on a picture of Jesus didn't exactly win me as a fan.
Anthony Sacramone, my pal who does the excellent Strange Herring blog, likes The Big Bang Theory and 30 Rock but I just can't get into them. 
Modern Family is no Frasier or Just Shoot Me (though creators Christopher Lloyd and Steve Levitan are creatively linked to both classics) but it can be funny and isn't afraid to display a degree of genuine warmth and heart. Politically correct? Sure. But at least I haven't seen it turn nasty (Glee, anyone?) and, these days, that's saying something.  So, I'll be rooting for it.  I still miss Everybody Loves Raymond, though.
http://www.youtube.com/watch?v=8neJpsFmzQg
DRAMA SERIES
"Boardwalk Empire" (HBO)
"Breaking Bad" (AMC)
"Downton Abbey" (PBS)
"Game of Thrones" (HBO)
"Homeland" (Showtime)
"Mad Men" (AMC)
Comment: I actually have not caught a single episode of any of these shows but why, I ask, should that stop me from an opinion?
Again, I refuse to pay for HBO (or Showtime for that matter).
AMC's Breaking Bad follows the story of a cancer-stricken chemistry teacher to turns to producing methamphetamine productions to secure his family's future. Personally, I prefer my TV school teachers to represent something closer to idealism (Room 222 where are you?)
Anthony Sacramone tells me Mad Men is good but probably too cynical for my taste.  I did like what I saw of the short-lived Pan Am which, like Mad Men, was set in the sixties.  But, alas, the show went the way of the airline.
The only other TV dramas I actually enjoyed over the past year were CBS' Chaos (new episodes of the too-quickly canceled spy drama were burned off last summer) and the British imports Doc Martin (the Mayberry-like dramedy can be found on some PBS stations) and Merlin (a solid and fun fantasy-adventure aired on Syfy). So, since PBS' Downton Abbey is also a British import, I guess I'll root for that. How's that for critical thinking?
Actually, Downton Abbey is an Upstairs, Downstairs-period piece that appears to have heart. I really should try to catch it.
Heart, BTW, is quality I believe Pan Am, Chaos, Doc Martin and Merlin all have in common as well. As a fairly typical TV viewer, I'm unmotivated to catch most of the edgy so-called "buzz-worthy" shows that are hyped (often literally) to death by the networks. Give me solid writing, good production values and a focus on likable (if sometimes flawed) characters who essentially try to do what's right and I'm happy. What the audience seeks, I believe are shows that are not preachy but do have a moral core, shows that are escapist but insult our intelligence and shows that aren't harsh or mean in tone.
You can use all the number-bending demographics you want to make Breaking Bad sound like a hit. But, if the networks are truly looking for genuine broad-appeal hits, I believe I've just given the recipe. Just stir in a little marketing and patience.
MINISERIES OR TV MOVIE
"American Horror Story" (FX)
"Game Change" (HBO)
"Hatfields & McCoys" (History)
"Hemingway & Gellhorn" (HBO)
"Luther" (BBC America)
"Sherlock: A Scandal in Belgravia" (PBS)
Comment: Haven't watched any of these either, though I do hope Hatfields & McCoys wins and spawns a new era of high-quality, old-style network miniseries. Remember when a TV event was a big-budget miniseries (i.e. Roots, Holocaust, Shogun, Jesus of Nazareth) and not a two-hour episode of The Bachelor? Supposedly, the marketplace can no longer support such even programming. I tend to disagree.  It seems to me that an era in which technology allows people to catch programming at their convenience (like they've always done with a good book), miniseries should be thriving, not dying.  I'm tired of TV that looks like it's highest ambition is to go viral as a YouTube video.  Bring back production values and good, solid storytelling.
VARIETY SERIES
"The Colbert Report" (Comedy Central)
"The Daily Show With Jon Stewart" (Comedy Central)
"Jimmy Kimmel Live" (ABC)
"Late Night With Jimmy Fallon" (NBC)
"Real Time With Bill Maher" (HBO)
"Saturday Night Live" (NBC)
Comment: This one's easy. I'm rooting for The Daily Show. First, because I actually watch it. Though I usually don't agree with Jon Stewart's politics, I give him what we cool people call "props" for (usually) being genuinely clever and funny without descending into Bill Maher-esque schoolyard bullying (disguised as supposedly edgy adult humor). In my book, Stewart also gets credit for, at least occasionally, doing bits that lampoon the silliness and hypocrisy of the left. Let's face it, both sides have their share on morons. Not that Stewart is always fair to conservatives. Comedy doesn't have to be fair. But it should at least be clever — and civil.
BTW, here's a suggestion for Fox. Air Redeye w/ Greg Gutfeld on the broadcast channel weeknights at 11:00 PM. That would give Stewart and Colbert and Kimmel and Fallon and Maher and SNL  some genuine conservative competition.
REALITY PROGRAM
"Antiques Roadshow" (PBS)
"Jamie Oliver's Food" (ABC)
"MythBusters" (Discovery Channel)
"Shark Tank" (ABC)
"Undercover Boss" (CBS)
"Who Do You Think You Are?" (NBC)
Comment: Of this group I actually watch (at least occasionally) Antiques Roadshow, Shark Tank and Undercover Boss.  I will say I like the concept of the celebrity genealogy showWho Do Think You Are? but a more appropriate title might be When Is It On?
Undercover Boss is nice and all that but I have to wonder who dumb those employees must be who still aren't on to the scam. Or, maybe, they just pretend not to recognize the disguised CEO as a very clever way of sucking up to him (or her).
Anyway, my personal Emmy goes to the entertaining (but sometimes a little too mean) Shark Tank.
REALITY-COMPETITION PROGRAM
"The Amazing Race" (CBS)
"Dancing With the Stars" (ABC)
"Project Runway" (Lifetime)
"So You Think You Can Dance" (Fox)
"Top Chef" (Bravo)
"The Voice" (NBC)
Comment: Easy win. I will admit Dancing with the Stars is a guilty pleasure, but The Amazing Race actually lives up to its name. Great production values and a lot of heart. That's way I put it on my All-Time Ultimate TV Schedule.
ANIMATED PROGRAM
"American Dad!" (Fox)
"Bob's Burgers" (Fox)
"Futurama" (Comedy Central)
"The Penguins of Madagascar: The Return of the Revenge of Dr. Blowhole" (Nickelodeon)
"The Simpsons" (Fox)
Comment: Futurama makes me laugh.
CHILDREN'S PROGRAM
"Degrassi" (TeenNick)
"Good Luck Charlie" (Disney Channel)
"iCarly" (Nickelodeon)
"Victorious" (Nickelodeon)
"Wizards of Waverly Place" (Disney Channel
Comment: Where's Ben 10: Ultimate Alien?
MUSIC COMPOSITION FOR A SERIES (ORIGINAL DRAMATIC SCORE)
"The Borgias," Trevor Morris
"Downton Abbey," John Lunn
"Pan Am," Blake Neely
"Smash," Marc Shaiman & Christian Bacon
"30 Rock," Jeff Richmond
Comment: I don't know. Most shows these days barely even have a theme song.  Here's one I liked from the days when they did:
ORIGINAL MUSIC AND LYRICS
"The Heart of Christmas" (song: "The Heart of Christmas"), Matthew West
"Raising Hope" (song: "Welcome Back to Hope"), Matthew W. Thompson
"Saturday Night Live" (song: "I Can't Believe I'm Hosting"), Eli Brueggemann, Seth Meyers & John Mulaney
"Smash" (song: "Let Me Be Your Star"), Marc Shaiman & Scott Wittman
"65th Annual Tony Awards" (song: "It's Not Just For Gays Anymore"), Adam Schlesinger & David Javerbaum
Comment: Haven't heard the other ditties but I blogged about The Heart of Christmas (which was distributed  by Mission Pictures International and aired on GMC TV). It's nice to see something with a faith component nominated. So, yes, I'll be rooting for it.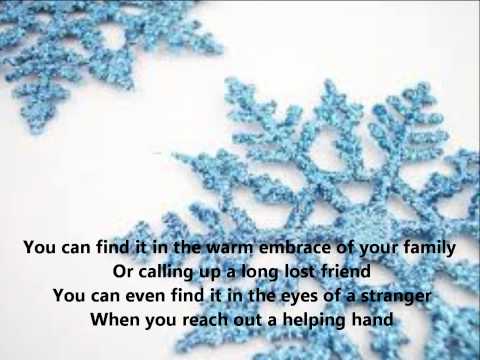 Encourage one another and build each other up – 1 Thessalonians 5:11