Looking for good things to watch on TV or at the movies here are some suggestions.
1. Field of Vision (Saturday 8:00 ET, NBC)
Synopsis: A mysterious video camera that somehow reveals secrets of the past comes into the possession of Lucy McFarland, the younger sister of  Tyler, Sinclair High School's star quarterback. When the camera reveals that some of his teammates have been mercilessly bullying troubled new transfer student Cory Walker, Tyler has a decision to make. Does he expose the perpetrators and risk the school championship or do the right thing stand up in defense of Cory?
Why you should watch: The sixth installment of Walmart & P&G's Family Movie Night franchise is certainly timely with bullying so much in the news lately. It's also a refreshing story of kids struggling to do the right thing in a world were adults aren't addled idiots struggling to learn how to be cool from their kids. It's also a film that's not afraid to display its heart without (as so many movies and TV shows do these days) immediately undercutting the sentiment with some sort of supposedly edgy throw-away line that neuters the original point.  The pacing, particularly in the beginning, could be a little brisker but, if you stick with it, chances are you'll find yourselves pulled in and rooting for these characters.
It's also important to support efforts like the Walmart/P&G initiative because networks, for reasons devoid of logic, are disinclined to program family shows despite the obvious success of family movies at the box office (i.e. The Blind Side, Soul Surfer, any of the Pixar movies).  But, just as box office success has led to an increasing number of family-friendly films, undeniable ratings success will force network executives to sit up, take notice and program accordingly.
The Cast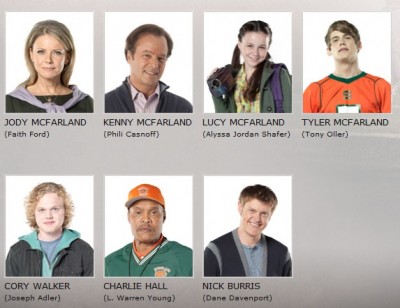 2. Chaos (Sat. 8:00 PM ET, CBS)
DVR this while you're watching Field of Vision. I just discovered the under-promoted Chaos last Saturday. CBS is apparently using this time slot (usually reserved for reruns) to burn off unaired episodes of this genuinely entertaining spy show that plays like Mission: Impossible if written and produced by the late Stephen J. Cannell (The Rockford Files, The A-Team). The show, which is, unfortunately, not on the fall schedule is a throwback to the Cannell-era shows that somehow managed to retain edge without being "dark."  While the efficiency of government agencies (like the CIA) are  skewered, there's no doubt that our heroes are, in fact, heroes. It's the kind of action-hour the networks produced when people actually watched the networks. CBS should reconsider letting this one go.
http://www.youtube.com/watch?v=KQoV6UZzO8U
3. Doc Martin (PBS stations, check your local listings)
Think Fox's House with a tad more heart. This British-produced dramedy (co-created by CBS'  Late, Late Show host Craig Ferguson) stars Martin Clunes as a brilliant but emotionally ill-at-ease physician (with a fear of blood) serving the needs of the quirky characters of the charming village of Portwenn.  The show itself is equally charming. Considering the show's popularity (and the fact that its own employee is one of its creators), CBS should consider doing a U.S. version.
4. Super 8 (New in theaters)
Like Field of Vision, a video camera plays a central role in this 1979-set story about a group of teens that capture a train crash on film. The train, it turns out, was carrying cargo related to Area 51, the site where the government is supposedly hiding evidence of alien contact. The movie is a collaboration between J.J. Abrams (Lost)  and Stephen Spielberg (who, of course, once gave us E.T.) So, it's interesting on that basis alone. Kyle Chander (Early Edition, Friday Night Lights) stars. The movie is rated PG-13 and has a running time of just under two hours.
5. Judy Moody and the NOT Bummer Summer (New in theaters)
Based on a bestselling book series by Megan McDonald, the movie follows the comic vacation adventures of a third grader named, you guessed it, Judy Moody.  It's rated PG.
Encourage one another and build each other up – 1 Thessalonians 5:11