This image zapped me yesterday and at first I didn't want to look at it, or even acknowledge it. I much prefer to live in light than in darkness. Paradoxically, my work as a therapist over the past 3 decades has been with people who sit in shadow, cast out by those who were supposed to protect and nurture them. As I witnessed their pain, I would move to shine a torch, candle, flashlight…. whatever I had, so as to pull them out of it. I would sometimes metaphorically speaking, climb in with them. Not only would I do that with clients, but with friends and family members. That's when it got tricky. The expectation (mine and theirs) was that I find ways to fix what was going on for them or find answers to their personal puzzles.
And then there were times when someone with whom I was in a romantic relationship, would foist their own box on me, as if somehow by accepting it, would prove that I loved them; a loyalty test. Those were the most challenging.
All the time, every day, these realizations come to me. Sometimes the box full of darkness was theirs' that they 'shared with me' because they couldn't carry it themselves and sometimes I willingly took it on. These days, I am open to help someone open their box and sort through it, without cleaning it up FOR them. Even more than that, I have come to acknowledge, that I too have a darkness box that contains age old fears, misperceptions and like Pandora's Box, I kept the lid slammed and nailed down so the emotional demons wouldn't escape. These days, I have asked them (and thus far they have complied) to peek out and not knock me over in an effort to get out. Looking at the picture above, I also notice that behind the lock is a glow that really IS  the gift contained within. Each one of my gremlins is indeed a teacher. That is the key that will break the chains.
Overheard in the bathroom at the gym recently : there was a young woman who was there with a friend and looked in the mirror and said "I look like shit today."  My initial inclination was to mind my own business, since what I had to say might not be well received. She didn't seem like a happy camper to begin with. Then my maternal instincts kicked in and since I really am old enough to be her mother, I was not about to let the opportunity pass by to have a potentially positive impact.
I couldn't resist asking her if she would ever talk to anyone else that way and surprised, she said "Of course not." I gave her the most compassionate look that I could, and asked her to please not speak to herself that way.  Her friend said nothing, which was equally surprising to me since my friends would likely challenge that verbalized perception of myself.  Maybe she agreed. Maybe she didn't know what to say.
I should have reminded her where she was which was Planet Fitness-the Judgment Free Zone of all places:)
I then walked away and began my workout. As I was sweating on the elliptical, I noticed my own self deprecating thoughts about levels of fitness, endurance, energy, with the focus on my belly, which is so for many women I know. I have such a love-almost-not-quite-hate-but rather-less-than-appreciative view of my 54 year old body. We teach what we need to learn, so this is my lesson. When I was in my 20's I was itsy bitsy teeny tiny by most standards. Over the interceding years, the weight jumped on board. Sneaky that way.  I lost a fair amount of weight a few years ago and am in so much better shape now than I was prior to peeling off those layers, but am still not content. Without using the same words as the woman who splattered self criticism in the mirror, I was doing the same thing.  She was MY mirror. I need to clean the lenses through which I view the image reflected back at me.
There are some moments  when the petty, day to day annoyances melt away in the face of the fireball sun realization that life is fleeting, experiences are transient and people are on loan to us. Last night, when I watched the You Tube viral phenom video called My Last Days (On Rainn Wilson's Soulpancake channel) about the courageous journey of  a young man named Zach Sobiech and his family and friends, I knew such an instant.  Silly me, though, I viewed it right before bed, with tears streaming down my face. Diagnosed with osteosarcoma in 2009, Zach not only survived, but thrived for the interceding 4 years and passed on May 20, 2013. What moved me the most about the video was that it offered an unabashed perspective that love lives on even after the body dies. The soul (whatever that is) of the person is inextricably connected with a tether of light to all those it ever touched. At least, that is my take on it. I imagine Zach and his circle of support experienced 'the inevitable dark night of the soul', but seemed to be able to turn them into something enduringly positive, something that will make a difference in countless lives.
In the midst of the pain; both emotional and physical, Zach continued  what would be considered 'normal' activities for a teenager, including school, a sweet relationship with a devoted young woman named Amy, deep bonds with his parents and siblings and music as an outlet for his emotions. He wrote these poignant words that have spread worldwide:
Clouds
Well I fell down, down, down Into this dark and lonely hole There was no one there to care about me anymore And I needed a way to climb and grab a hold of the edge You were sitting there holding a rope
And we'll go up, up, up But I'll fly a little higher We'll go up in the clouds because the view is a little nicer Up here my dear It won't be long now, it won't be long now
When I get back on land Well I'll never get my chance Be ready to live and it'll be ripped right out of my hands Maybe someday we'll take a little ride We'll go up, up, up and everything will be just fine
And we'll go up, up, up But I'll fly a little higher We'll go up in the clouds because the view is a little nicer Up here my dear
It won't be long now, it won't be long now If only I had a little bit more time If only I had a little bit more time with you
We could go up, up, up And take that little ride And sit there holding hands And everything would be just right And maybe someday I'll see you again We'll float up in the clouds and we'll never see the end
And we'll go up, up, up But I'll fly a little higher We'll go up in the clouds because the view is a little nicer Up here my dear It won't be long now, it won't be long now
Help fund cancer research for kids like Zach
I can barely comprehend what must be happening in the hearts and minds of those who knew him best; a roller coaster ride of emotion. From my heart to theirs, I wish them the kind of love that cradles them in comfort and uplifts them to the celestial.
http://youtu.be/9NjKgV65fpo My Last Days
http://youtu.be/sDC97j6lfyc Clouds by Zach Sobiech
http://youtu.be/7zxXAtmmLLc Clouds-Celebrity Tribute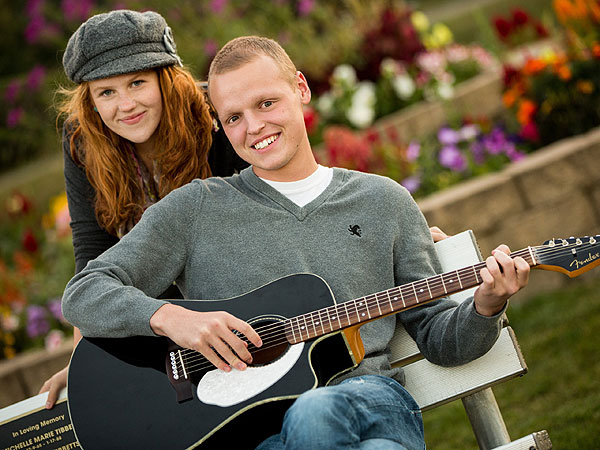 Zach Sobiech with friend Sammy Brown
J. Dunn Photography
Recently I was speaking with someone who felt dismayed that she wasn't able to focus on any one career path, interest or purpose. She referred to herself as a "Doomed Dabbler", destined to wander aimlessly in the wilderness with no hope of finding refuge. As we spoke, within moments, a lightbulb went off in her head and she reframed it to say that she was an "Ecclectic Enthusiast" who could pick and choose from a veritable buffet of options,  a "Serene Sampler" who could indulge her fantasies and wild imaginings. This was quite a stretch for her and a new adventure on which she could embark. Clearly, although she does not do it professionally, she is a wonderful writer with a powerful creative Muse whispering in her ear. I asked if I could borrow her terms and she agreed.
I have been challenged throughout my life with having so many interests and ideas that they crowd around me for undivided attention. It's kind of like being a kid magnet when you are on the phone or the potty. They are not particularly patient and each of them believe that THEY are the most important. I can see them pouting if they feel neglected. What's a creative soul to do?  All I can say is that I am doing what I can with what I've got. I worked with a coach a few years ago, who reminded me to "drill deep, not wide." and from friends who are branding experts, that I have needed to zero in on my audience, since it is impossible to be all things to all people. I like having at the ready, my own portable tool kit of ideas, just like I carry nearly everything I could use for workshops in the back of my Jeep (except the chocolate, since it would melt) My resume is 2 pages long and growing. Throughout my working life I have been employed as a babysitter, lifeguard/swim team coach, ice cream scooper, massage practitioner, biofeedback tech, nursing home social worker, private practice therapist, artist's model, practice patient at a medical school, greeting card text writer, minister, waitress, author, reiki master, speaker,  and addictions counselor. Needless to say, I am never bored. I consider my work diverse enough to keep me intrigued by it.
What beckons you into doing work that you love and having interests that entice you to pursue them?