There are some moments  when the petty, day to day annoyances melt away in the face of the fireball sun realization that life is fleeting, experiences are transient and people are on loan to us. Last night, when I watched the You Tube viral phenom video called My Last Days (On Rainn Wilson's Soulpancake channel) about the courageous journey of  a young man named Zach Sobiech and his family and friends, I knew such an instant.  Silly me, though, I viewed it right before bed, with tears streaming down my face. Diagnosed with osteosarcoma in 2009, Zach not only survived, but thrived for the interceding 4 years and passed on May 20, 2013. What moved me the most about the video was that it offered an unabashed perspective that love lives on even after the body dies. The soul (whatever that is) of the person is inextricably connected with a tether of light to all those it ever touched. At least, that is my take on it. I imagine Zach and his circle of support experienced 'the inevitable dark night of the soul', but seemed to be able to turn them into something enduringly positive, something that will make a difference in countless lives.
In the midst of the pain; both emotional and physical, Zach continued  what would be considered 'normal' activities for a teenager, including school, a sweet relationship with a devoted young woman named Amy, deep bonds with his parents and siblings and music as an outlet for his emotions. He wrote these poignant words that have spread worldwide:
Clouds
Well I fell down, down, down Into this dark and lonely hole There was no one there to care about me anymore And I needed a way to climb and grab a hold of the edge You were sitting there holding a rope
And we'll go up, up, up But I'll fly a little higher We'll go up in the clouds because the view is a little nicer Up here my dear It won't be long now, it won't be long now
When I get back on land Well I'll never get my chance Be ready to live and it'll be ripped right out of my hands Maybe someday we'll take a little ride We'll go up, up, up and everything will be just fine
And we'll go up, up, up But I'll fly a little higher We'll go up in the clouds because the view is a little nicer Up here my dear
It won't be long now, it won't be long now If only I had a little bit more time If only I had a little bit more time with you
We could go up, up, up And take that little ride And sit there holding hands And everything would be just right And maybe someday I'll see you again We'll float up in the clouds and we'll never see the end
And we'll go up, up, up But I'll fly a little higher We'll go up in the clouds because the view is a little nicer Up here my dear It won't be long now, it won't be long now
Help fund cancer research for kids like Zach
I can barely comprehend what must be happening in the hearts and minds of those who knew him best; a roller coaster ride of emotion. From my heart to theirs, I wish them the kind of love that cradles them in comfort and uplifts them to the celestial.
http://youtu.be/9NjKgV65fpo My Last Days
http://youtu.be/sDC97j6lfyc Clouds by Zach Sobiech
http://youtu.be/7zxXAtmmLLc Clouds-Celebrity Tribute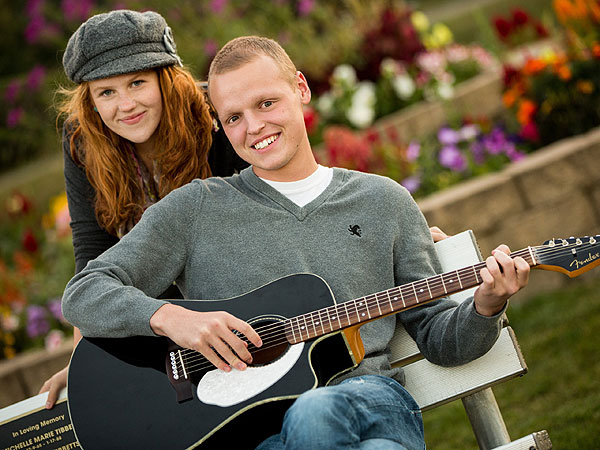 Zach Sobiech with friend Sammy Brown
J. Dunn Photography
Recently I was speaking with someone who felt dismayed that she wasn't able to focus on any one career path, interest or purpose. She referred to herself as a "Doomed Dabbler", destined to wander aimlessly in the wilderness with no hope of finding refuge. As we spoke, within moments, a lightbulb went off in her head and she reframed it to say that she was an "Ecclectic Enthusiast" who could pick and choose from a veritable buffet of options,  a "Serene Sampler" who could indulge her fantasies and wild imaginings. This was quite a stretch for her and a new adventure on which she could embark. Clearly, although she does not do it professionally, she is a wonderful writer with a powerful creative Muse whispering in her ear. I asked if I could borrow her terms and she agreed.
I have been challenged throughout my life with having so many interests and ideas that they crowd around me for undivided attention. It's kind of like being a kid magnet when you are on the phone or the potty. They are not particularly patient and each of them believe that THEY are the most important. I can see them pouting if they feel neglected. What's a creative soul to do?  All I can say is that I am doing what I can with what I've got. I worked with a coach a few years ago, who reminded me to "drill deep, not wide." and from friends who are branding experts, that I have needed to zero in on my audience, since it is impossible to be all things to all people. I like having at the ready, my own portable tool kit of ideas, just like I carry nearly everything I could use for workshops in the back of my Jeep (except the chocolate, since it would melt) My resume is 2 pages long and growing. Throughout my working life I have been employed as a babysitter, lifeguard/swim team coach, ice cream scooper, massage practitioner, biofeedback tech, nursing home social worker, private practice therapist, artist's model, practice patient at a medical school, greeting card text writer, minister, waitress, author, reiki master, speaker,  and addictions counselor. Needless to say, I am never bored. I consider my work diverse enough to keep me intrigued by it.
What beckons you into doing work that you love and having interests that entice you to pursue them?
Once upon a time, I would have considered some of the events of my life to be  fodder for Twilight Zone episodes, with the theme song (do do do do do do do do~) playing in my head when they would occur. I didn't dare talk about them, out of concern for being thought weird or  committable. The more they appeared, the more I thought "hmmmm, perhaps this stuff is real and those who don't notice them are the ones who are missing out." Dream messages, thinking of someone and they call or email, singing a song and then having it be the next one played on the radio, reading license plate messages, always finding the perfect parking spot, having a book literally fall of the shelf into your waiting hands, are examples of what I am referring to. I'm sure you have experienced even more of what I call 'cosmic coincidences'.  These days, they fall into the 'of course, realm." A Course in Miracles expresses this concept eloquently. "Miracles are a Natural Occurrence. When they do not occur, something has gone wrong." I do see these as everyday miracles, perfectly orchestrated and placed for us to discover them as a reminder that life is truly wondrous.
This past weekend, I trekked up Rte 95 from PA to RI for the occasion of my niece Rachael's gradutation from Johnson and Wales, which is a prestigious culinary arts school.  She had worked hard to earn both an Associates degree as a pastry chef and then a BS in Entrepreneurship, even in the midst of several family crises that were swirling around back at home. I am so proud of her accomplishments and sat next to my sister in the Dunkin Donuts Center in Providence as she received her degree.  Besides 'kvelling' (Yiddish for bursting with pride) for Rachael, I was moved by two speakers in particular. The first was a UCC minister named Rev. Dr. Barry Fleet. I was moved by his ecumenical references;  sensitive to the fact and  in recogntion that he was speaking to an international, multi-cultural audience  about  'the One' reflected in all of those here." He acknowledged the "source of love and wisdom, and creativity and all that is good." To seal the closing benediction after the ceremony, he offered the words "Blessed be and so it is," which made my interfaith heart swell with joy.
The second was Steven Spinner who is the CEO of United Natural Foods. He shared this wisdom "Do what you love with passion and enthusiasm. Do it right and  and succeed with integrity. Treat each other the way you want to be treated." He encouraged the grads to "Use the smell test. If it doesn't smell good, walk away." He then invoked the lyrics to the Pearl Jam song called Just Breathe, attesting to the blessings in his own life that he passes on to others.
Following the festivities, my sister and her family headed back to New Jersey and I decided to make a weekend of it in Rhode Island. The first stop was at the lovely home of Courtney A. Walsh, another wild word wrangler who I befriended via facebook about a year ago. Hand- rubbing- with -glee anticipation of our face to face meeting, I walked in and felt welcomed right away with a boisterous hug, rippling laughter, a big glass of a healthy concoction of juice, herbs and  a dash of love blended in for good measure. We spent hours talking, completing each other's sentences, business brain and heart storming, comparing notes and even kvetching a bit about things that we felt weren't as we might have them be, but ultimately life lessons that made us stronger and more resilient.  One of the concepts we laughed about was that of  'woo woo vs. whoohoo!',  to which we both ascribe, which is that amazing experience of accepting that what we might have considered 'airy fairy cosmic foo foo' was indeed as 'real' as that which we can take in with our five senses.
I slept on the comfy sofa in her living room and when I turned in, I had turned off the lights.  In the wee hours, I opened my eyes and saw a string of Christmas lights that were illuminated. I wondered if Courtney got up in the middle of the night to turn them on. Once the morning sun shone through, she came in and noticed that they were glowing too. She told me that they had stopped working awhile ago and I guess she had kept them up because they were pretty anyway. We laughed as we mused that the energy we had called forth had turned them back on. In the past, that would have been a woo woo moment for me. It was a similar occurrence when I had visited my friend Nancy Smeltzer in MD a few months ago. We were immersed in the warm, soothing waters of her outdoor hot tub and looked over at the clock and saw that the hands were spinning around and around the entire time we were out there. It hadn't done that before, she laughingly informed me.
On Sunday, Courtney and I did some strolling in a local park where there were beings of all ages and configurations, people and critters enjoying a mid Spring day. I felt cradled by the light green tree leaves that hovered above and was fascinated by the tree trunks, some of which were wrapped around each other, as if in an ancient embrace.  I couldn't resist engaging in one of my favorite activities; tree-hugging; gracefully aging hippie that I am. We sat under one and did a facetime chat with another kindred spirit, Goddess sistah named Jenny Perry who lives in NJ. Courtney had introduced us a few months ago. It was lovely to be able to connect through means that would have been sci-fi when we were kids. We are coming up with all sorts of juicy ways to collaborate on teaching together.
Heading back home, crossing over into Connecticut, I made a stop at a cultural icon that I had wanted to visit ever since I saw the 1988 film Mystic Pizza. Legendary cuisine indeed, as I enjoyed a  small broccoli and eggplant gourmet delight; half of which I took home with me for dinner.
I had the added pleasure of watching it on a screen in front me while I munched.
Where is the line between what might be considered other worldly and weird and what is simply out this world wondrous?  For me, there is none.
http://youtu.be/YzkZPI-HKsk  Just Breathe by Pearl Jam
On Mothers Day, my son Adam took me to see Oz The Great and Powerful.  Having grown up watching the Wizard of Oz, I was eager to immerse myself in the prequel in which the Wizard takes on the mantel. Some critics have lambasted it, others have waxed poetic. This eternal child still finds delight in yet another of what Joseph Campbell called 'the hero's journey.'
As it begins, Oscar Diggs is a conniving, womanizing carnival magician. When he gets caught  in flirtation with The Strong Man's wife, he escapes into the hot air balloon that whisks him skyward, up into a whirlwind and landing not so gently into a rampaging river. There he meets three witches, she of the North, she of the East  and she of the West (wonder what happened to the Southern representative?)   a talking bellhop costume wearing winged monkey (not one of the Wicked Witch's minions…."don't make me call the flying monkeys.") and a little china girl doll.  They become his companions along the Yellow Brick Road; some more welcome than others.
He meets the doll when her village is destroyed  by the Wicked Witch of the East and when Oz finds her, she is underneath a broken tea pot, her little legs separated from her body. He just happens to have a bottle of glue in his pocket to reattach them and once he does, the cracks are still visible, but she is able to walk on them and they support her for the balance of the movie.
I won't give away the rest of the plot in case you haven't yet seen it, but what I gleaned from it was worth its weight in the gold that was offered to the potential protagonist for killing the Wicked Witch of the West. Even if we seem broken, we can be put back together and even if our cracks are showing, we are still beautiful  and can keep on 'easing on down the road.'  Appearances can be deceiving and what might look shiny and alluring on the outside can hide a dark secret. Small can be mighty.   Together, tinker, farmer, and munchkin can save the day. Even the most self serving person can be redeemed, and 'omnia vincit amor'-love conquers all.
Pay no attention to that man behind the curtain.
http://youtu.be/EpzJQoWm6Nk  Movie Clip from Oz the Great and Powerful
http://youtu.be/-JIUQ76L0YA Almost Home by Mariah Carey