Amma, an Indian woman called the "hugging saint" for her method of blessing via embrace, came to the Seattle area with an entourage of devotees this weekend for the start of her 25th North American tour.
I was able to ask her a few questions through a translator, as she sat in the Hyatt Regency ballroom dispensing bear hugs, Hershey kisses, and the occasional apple to followers of all ages, colors and creeds. (More than half seemed to be white Americans, though there are lots of Indians in the Seattle area, thanks to Microsoft and other tech companies.) Watching, and then participating, in the experience reminded me of a cross between holy communion and Christian/New Age faith healing, with  a dash of the sights, smells and sounds of a Hindu temple ceremony.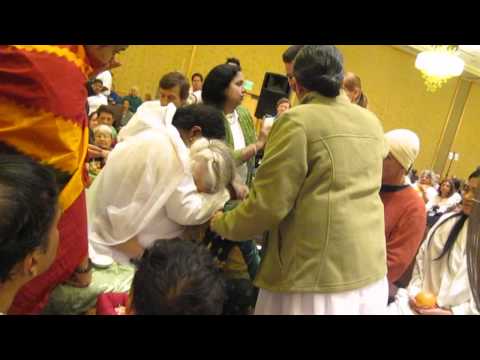 I specifically asked Amma about her view of natural disasters, since her Embracing the World charity has given out millions of dollars (raised by donations and selling trinkets, scarves and other Amma-related souvenirs made at her ashrams) in funds and supplies to victims of floods, earthquakes and other calamities, including Hurricane Katrina and last year's Haiti earthquake. Check out my Huffington Post blog for her responses: the gist is that humans have collectively disturbed the balance of nature and we also suffer due to individual karma, but we still need to respond to victims compassionately.
I would have liked to get more specific responses, but the translation process and surging crowd made it difficult to ask follow-up questions. Fortunately, her organization's leader in Japan, Brahmachari Shantamrita, a bearded American man in orange robes, was able to speak to me for much longer about plans to help the victims of this year's earthquake/tsunami/nuclear disaster. About 300 volunteers there are focusing on getting food, water, blankets, masks and clothing to the coastal town of Rikuzentakata, where 10 percent of the population died and 70 percent are living in refugee centers. When Amma visits Japan in July (the trip was supposed to happen before Seattle, but the organization felt the country needed more time to recover before hosting one of her crowded events), she will present a "sizeable donation" towards the recovery efforts.
What do you think? Share your thoughts in the Comments section below.
Click here to subscribe to Belief Beat and click here to follow Belief Beat on Twitter.