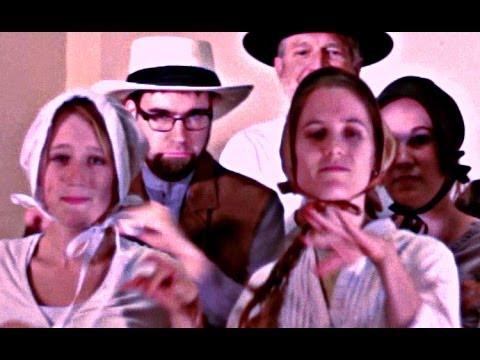 I've been thinking a lot lately, trying to make sense out of the craziness rampant in too many American city police departments. The newest idiocy is the story of a St. Paul, Minnesota man who was, basically, tased for sitting while black. Oh — in a public space. And because he didn't give police his name. (Note: there was no legal requirement he do so.)
Wow. Shades of the Puritans, whom I had to study for an entire semester in grad school. My own fault — I thought it would help me make sense of American lit. What it helped me with is the rationale behind so many of the apparently irrational actions of so many of today's Americans.
I linked to the very witty — and great fun! — video of Quakers parodying Ylvis's song 'What does the fox say?' to help Americans unfamiliar w/ the wonderful spiritual tradition of Quakerism understand its basic tenets. You can read The Scarlet Letter, or most of Hawthorne, or The Crucible to see the Puritans in action.
Suffice to say: Puritans believed in the inherent evil of human beings; Quakers believed in the inherent good. If you were a Puritan and good things happened to you, God was showing favour. If bad things happened? It was your own fault. N.B.: this is certainly at odds w/ poor Job's story, isn't it?
The Quakers believe that good fortune is a blessing, and nothing you necessarily 'deserve.' Big difference, but obvious still today.
If you get tased by a cop, Puritans would say, it's YOUR fault. NOT the fault of the racially paranoid clerk at the store, or the racially motivated police. Yours, even if you're following the law. After all, if you're black? God must not love you as much. Or something.
I'm only a tiny bit kidding here. This is certainly the attitude behind much of the random horror I see in American culture today. A woman who took on the notably sexist gaming establishment received so many death threats that she fled her home. She must be the cause of her own endangerment, according to several folks I've read commenting. After all, SHE spoke out.
What can we,working hard to love each other, working on fragile and easily ignited (at least in my case) beginner's hearts, do? Is there anything to help me reframe the ugliness I seem to see in so many Americans?
There is. I can reframe: I'm can try to be more like a Quaker — assuming folks have good intentions, even when they do squirrelly things. Talking them to find out what those intentions are (although the guy w/ the 9-year-old girl and the machine gun still eludes me…) This gets increasingly complicated, as noted. So I'm implementing a news diet, cutting back on what gives me very bad heartburn. And reading more Friends Journal, which usually calms me with its lucid take on today's moral dilemmas. You might try something similar. Blame is going to get us nowhere at all. Or perhaps, more accurately, nowhere I would want to go.
Right now on FB, my youngest sister has tagged the three of us other sisters to do the 'gratitude challenge.' In which for five days, you have to come up w/ three things a day for which you're grateful.
Just three, I said? Because I started a gratitude journal years ago, so I've been practicing. And as I noted elsewhere, it becomes the best of habits.
Today, because FB is a large audience, I wanted to hit the basics fast: my husband, my sons & grandson, my 'daughters' — the DIL and nieces I have on lend from their wonderful mothers. But most days, what goes in to my gratitude journal is everyday life. I'm grateful for the woodpeckers on the seed & suet feeders, the hummers on theirs. I'm grateful for a day w/ cooler than normal temps. And there's always when I cook, or if we go out to eat — I'm always  grateful for good food!
Thinking about gratitude is a humbling exercise, if you do it both seriously & frequently. I'm grateful at night for soft sheets on a comfortable bed, in a safe house w/ air conditioning in the summer and heat in the winter. One cold winter night only a few years ago, a homeless man froze to death only 6 blocks from my house. Believe me, I thought about my comforts that entire week… And still do.
I'm grateful for a life that enabled me to write when I was laid off quickly from my job. That's a privilege most people will never know, and I really get that.
I'm grateful, too, for (as the Mary Chapin Carpenter song goes), Pens that won't run out of ink/ And cool quiet and time to think. Not to mention a Moleskine to put it all in.
Just looking at my daily life — my cute little car, my desk, my books & my pans to cook in & my cell phone & all these many many 1st world pleasures — I'm grateful.
I'm not saying this to be a total Pollyanna. I'm trying to remind us all that many of our everyday pleasures & privileges we take for granted. And that's too bad, because often? Just everyday life is enough. Really.
We did it! Those of us who signed up for the half-marathon (and those who were insane enough to go 24 hours w/out sleep for the whole nine yards!) did it!
As one of the participants noted, what kind of crazy people would spend a day sweating over poetry w/ strangers? Weeelll… Poets would. And did.
The thing about doing something so thoroughly non-remunerative (we made no $$; it won't look impressive on a resumé; it's not prestigious — yet!; etc.) is that it reminds you what you love.
Sometimes I need to remember that. I need to get back in touch w/what is so important to me — and/or so much fun — that I need nothing more than the joy & challenge of doing it. Because, well, life and chores and 'responsibilities' sneak up on me. And suddenly I'm on the phone all day with people I love, but who may be more needing than rewarding.
'Reward' is a funny concept. I spent TWELVE HOURS yesterday writing often fairly mediocre poetry. And 'publishing' it to group of strangers. Who will be able to TELL it's mediocre. And the only reasons I can give you are this: I wanted to see if I could do it. And it was (all whining aside) hugely 'rewarding.'
So I realise that would NOT be true for most folks I know. But it's true for me, and the 100 or so other folks who challenged ourselves to write/ compose/ plan/ dream/ eat & sleep & breathe poetry for 12 or 24 hours.
See that badge uppa top of the page? That's my 'reward.' Oh — and 12 poems. Each of which, because I kept my word to myself, is a winner. And that kind of love feeds my beginner's heart all to pieces.
I'm doing a half-marathon tomorrow. Working HARD for hours. And now that I have you thinking what a sleek athlete I must be, I'll confess: it's a poetry half-marathon. 🙂
The Poetry Marathon 2014 (24 poem/ 24 hours) also has a half-marathon option. That would be me. Even at 18 I wasn't much for all-nighters. 24 hours?? I'll be quite happy to crank out half that many poems, in half that amount of waking time!
Every so often, we need to s-t-r-e-t-c-h ourselves in what we love. For me, that would be writing. Especially poetry. So I signed up for a half-marathon writing poetry. Fun idea, and harder than it sounds, as it usually takes me hours to do just one poem. Tomorrow, I'll have one hour PER poem. So much for perfection.
You know that saying, right? Perfect is the enemy of good. It;s been attributed to sages as diverse as Confucius & Voltaire. And for me, it's bang-on right. It was years ago that I realised (finally!) that when I try to make ANYTHING perfect, it usually doesn't get done…
So tomorrow is my foray into Nike land: just do it. I'm recommending you try that, as well. Think of something you love, and just do it. Which probably sounds totally contradictory to 'stretching,' right?
Wrong. The hardest thing in the world is to confront your own learning curve. It's also the only way to grow.